Ethan Frome (Mass Market)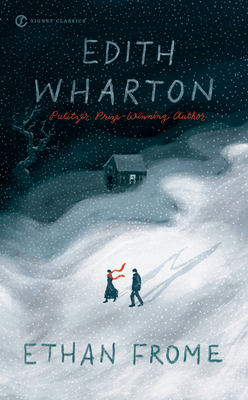 $5.95

Usually arrives at our store within 4-7 days
Description
---
A masterwork of American literature from the Pulitzer Prize-winning author of The Age of Innocence.

A marked departure from Edith Wharton's usual ironic contemplation of the fashionable New York society to which she belonged, Ethan Frome is a sharply etched portrait of the simple inhabitants of a nineteenth-century New England village. The protagonist, Ethan Frome, is a man tormented by a passionate love for his ailing wife's young cousin. Trapped by the bonds of marriage and the fear of public condemnation, he is ultimately destroyed by that which offers him the greatest chance at happiness.

Like The House of Mirth and many of Edith Wharton's other novels, Ethan Frome centers on the power of local convention to smother the growth of the individual. Written with stark simplicity, this powerful and tragic novel has long been considered one of Wharton's greatest works.
About the Author
---
Edith Jones Wharton (1862–1937) was born in New York City into a family of merchants, bankers, and lawyers. In 1885 she married Edward Wharton of Boston. They shared a love of travel, while maintaining a home she designed, The Mount, in Lenox, MA. After their divorce in 1913, Edith Wharton settled in Paris. Throughout World War I, she was active in relief work, including raising tens of thousands of dollars for the war effort and opening tuberculosis hospitals, and in 1916, she was decorated with the Cross of the Legion of Honor for her service to her adopted country. Her novels include The House of Mirth (1905), Ethan Frome (1911), The Custom of the Country (1913), Summer (1917) and most famously The Age of Innocence (1920), which made her the first woman to win the Pulitzer Prize for Literature.