Mean Genes: From Sex To Money To Food: Taming Our Primal Instincts (Paperback)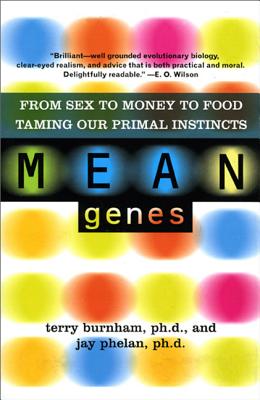 Description
---
Short, sassy, and bold, Mean Genes uses a Darwinian lens to examine the issues that most deeply affect our lives: body image, money, addiction, violence, and the endless search for happiness, love, and fidelity. But Burnham and Phelan don't simply describe the connections between our genes and our behavior; they also outline steps that we can take to tame our primal instincts and so improve the quality of our lives. Why do we want (and do) so many things that are bad for us? We vow to lose those extra five pounds, put more money in the bank, and mend neglected relationships, but our attempts often end in failure. Mean Genes reveals that struggles for self-improvement are, in fact, battles against our own genes -- genes that helped our cavewoman and caveman ancestors flourish but that are selfish and out of place in the modern world. Why do we like junk food more than fruit? Why is the road to romance so rocky? Why is happiness so elusive? What drives us into debt? An investigation into the biological nature of temptation and the struggle for control, Mean Genes answers these and other fundamental questions about human nature while giving us an edge to lead more satisfying lives.
About the Author
---
Terry Burnham is associate professor of finance at Chapman University. He lives in Orange County, California.

Jay Phelan is a professor of biology at UCLA. He lives in Los Angeles, California.
Praise For…
---
Robert Frank, Professor of Economics, Cornell University, and author of Luxury Fever
"Hip, fun, and packed with attitude, Mean Genes is a laser-guided surgical strike in the self-control battles we fight every day. Burnham and Phelan not only unmask the devil inside us, they hand us the tools to disarm him."

Washington Post Book World
The Mean Genes message is optimistic...a self-help book for the merely average human being."