The Fall of the Ottomans: The Great War in the Middle East (Paperback)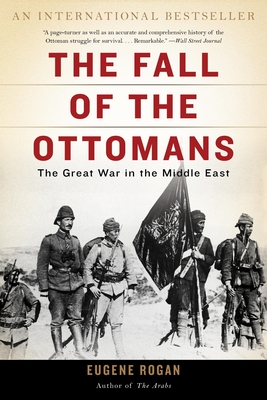 $19.99

Usually arrives at our store within 4-7 days
Description
---
The thrilling and definitive history of World War I in the Middle East

By 1914 the powers of Europe were sliding inexorably toward war, and they pulled the Middle East along with them into one of the most destructive conflicts in human history. In The Fall of the Ottomans, award-winning historian Eugene Rogan brings the First World War and its immediate aftermath in the Middle East to vivid life, uncovering the often ignored story of the region's crucial role in the conflict. Unlike the static killing fields of the Western Front, the war in the Middle East was fast-moving and unpredictable, with the Turks inflicting decisive defeats on the Entente in Gallipoli, Mesopotamia, and Gaza before the tide of battle turned in the Allies' favor. The postwar settlement led to the partition of Ottoman lands, laying the groundwork for the ongoing conflicts that continue to plague the modern Arab world. A sweeping narrative of battles and political intrigue from Gallipoli to Arabia, The Fall of the Ottomans is essential reading for anyone seeking to understand the Great War and the making of the modern Middle East.
About the Author
---
Eugene Rogan is professor of modern Middle Eastern history at the University of Oxford and the director of the Middle East Centre at St. Antony's College, Oxford. The author of numerous books, including the international bestseller The Fall of the Ottomans, Rogan is the recipient of the Albert Hourani Prize. He lives in Oxford, England.
Praise For…
---
"A remarkably readable, judicious and well-researched account of the Ottoman war in Anatolia and the Arab provinces."—Mark Mazower, Financial Times

"Rogan has written an impressively sound and fair-minded account of the fall of the Ottoman Empire."—Max Hastings, Sunday Times (London)

"[An] assured account.... The book stands alongside the best histories."—Economist

"The book is not only exact and readable but also has the elements of a thriller and thus is all the more remarkable in view of its thoroughness in covering a linguistically and historically difficult subject."—Wall Street Journal

"This engrossing history unfolds in the Middle Eastern theatre of the First World War, capturing the complex array of battles, brutalities, and alliances that brought down the six-hundred-year-old Ottoman Empire.... Rogan argues that the empire's ultimate demise was the result not of losing the war but of a clumsily negotiated peace. His balanced narrative unearths many seeds of current conflicts."—New Yorker

"Admirable and thoroughly researched.... A comprehensive history of World War I in the Middle East."—New York Review of Books

"[An] intricately worked but very readable account of the Ottoman theocracy's demise.... This is an extraordinary tale and Rogan recounts it well."—New York Times

"To have written a page-turner as well as an accurate and comprehensive history of the Ottoman struggle for survival is a remarkable achievement."—Wall Street Journal

"As
the Middle East is collapsing all around us, if you wanted to know where it all
began and when, read this great book by a great Oxford historian."—Fareed Zakaria, Fareed Zakaria GPS, Book of the Week

"[Rogan's]
account is geopolitical and military writing at its best - taut, anecdotal and
extraordinarily researched. A tangled story, to be sure, one that both commands
and rewards the reader's attention."—Washington Times

"A
comprehensive, lucid and revealing history.... This book will surely become the
definitive history of the war."—The Times (UK)

"The Fall of the Ottomans is a remarkably lucid and accessible work of history, involving a large cast of contradictory and complex characters.... Telling quotations from diplomats, field commanders, and ordinary soldiers of all the combatants lend the narrative a powerful sense of immediacy."—The Daily Beast

"Eugene
Rogan has given us an absorbing history of the war's principal military and
political battles in the Middle East through the eyes of those who fought them."—Mustafa Aksakal, chair of Modern Turkish Studies and associate professor of history at Georgetown University

"[A] masterly history of the Ottoman empire in its final years.... Eugene Rogan has written a meticulously researched, panoramic and engrossing history. The book is essential reading for understanding the evolution of the modern Middle East and the root causes of nearly all the conflicts that now plague the area. The Fall of the Ottomans is an altogether splendid work of historical writing."—Ali A. Allawi, The Spectator (UK)

"A
fantastic, readable, and much needed study of the most chronically neglected of
all of the Great War's participants: the Ottoman Empire. Informative and
enlightening."—Alexander Watson, author of Ring of Steel: Germany and Austria-Hungary in World War I

"This
is a gripping, masterful account of World War One in the Middle East from the
vantage point of the Ottoman Empire.... Combining magisterial scholarship with
a keen sense of drama and lively narrative style, it tells a grim story but a
fascinating one.... If you want to understand the underlying causes of conflict
and violence in the Middle East in the last century, you will not find a better
book."—Avi Shlaim, authorof The Iron Wall: Israel and the Arab World

"This
book opens up a window on vital chapters in the shaping of the Middle East as
well as the history of the Great War, bringing together vivid personal details
with a broad historical panorama of human suffering and heroism, the
incompetence and folly of the general staffs, and the scheming of the great
powers."—Rashid Khalidi, authorof Resurrecting Empire: Western Footprints and America's Perilous Path inthe Middle East

"Thoroughly researched and elegantly written by one of the leading experts on the region, The Fall of the Ottomans reminds us that the 1914-18 conflict was truly a world war with huge and continuing consequences. No one is better equipped than Eugene Rogan to handle the course and impact of the war in the Middle East and he does a superb job, telling a complex and multifaceted story with great clarity, understanding, and compassion. This timely and important work restores the Middle East to its rightful place in the history of the Great War."—Margaret MacMillan, author of The War That Ended Peace: The Road to1914

"Thrilling, superb, and colorful, Eugene Rogan's The Fall of the Ottomans is brilliant storytelling. Filled with flamboyant characters, impeccable scholarship that illuminates the neglected Near Eastern theater of WWI--showing how the Ottomans managed repeatedly to defeat the Allies--and revelatory analysis that explains the modern Mideast, The Fall of the Ottomans is truly essential but also truly exciting reading."—Simon Sebag Montefiore, authorof Jerusalem: The Biography