Complete Chamber Music for Strings and Clarinet Quintet (Dover Chamber Music Scores) (Paperback)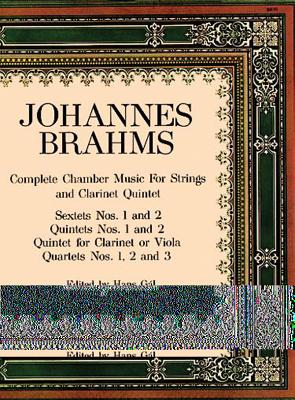 This item is not available.
Description
---
The Breitkopf & Hartel edition of the complete works of Brahms (Johannes Brahms: Samtliche Werke; Ausgabe der Gesellschaft der Musikfrunde in Wien), prepared in the 1920s, is still considered the standard source for the music of Brahms. It is the music of Brahms as the composer himself conceived it, without any editor's additional markings of dynamic change, tempo variation, slurrings, phrasings, etc. As the pure, authentic text for the music of Brahms, the edition is unlikely ever to be superseded.
This volume is an unabridged republication of Volume 7 of the Complete Works. It contains the Sextets Opp. 18 and 36 (2 violins, 2 violas, 2 cello); the Quintets Opp. 88 and 111 (2 violins, 2 violas, cello); the three Quartets Opp. 51, No. 1, 51 No. 2, and 67 (2 violins, viola, cello); and the Quintet for Clarinet, Op. 115 (2 violins, clarinet -- or viola -- viola, cello).
Hans Gal, the editor for this and many of the other volumes in the series, states in a short preface the sources for the texts of the eight compositions. In every case these include at least two sources, and often as many as four; the edition in score and in parts as published by N. Simrock, Berlin; Brahms's personal copy of the Simrock score; and the original manuscript. The preface discusses the few corrections and significant variant readings. In the Dover edition, this preface is provided in both German and English.
About the Author
---
German-born composer Johannes Brahms (1833-97), an important figure of the Romantic era, spent most of his career at the forefront of the Viennese musical scene. A master of counterpoint, he wrote for piano, chamber ensembles, symphony orchestras, and voice.