Complete String Quartets: Opp.18, 59, 74, 95, 127, 130, 131, 135, Grosse Fugue Op. 133 (Dover Chamber Music Scores) (Paperback)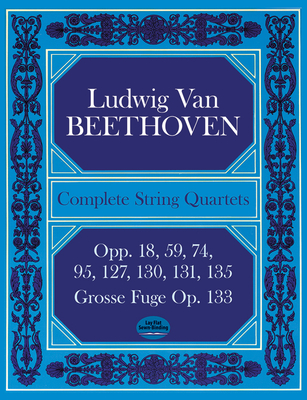 $24.95

Usually arrives at our store within 4-7 days
Description
---
This single volume contains all the string quartets of Beethoven: the six quartets of Opus 18; the three quartets of Opus 59; Opera 74 and 95; and the late quartets, Opera 127, 130, 131, 132, and 135. The volume concludes with the Grosse Fuge, Opus 133.
The music is photographically reprinted from the Breitkopf & H rtel printed score, still considered the standard, authoritative edition for the Beethoven quartets.
Noteheads in this edition have been reproduced in a size large enough to be read easily from a music stand or the keyboard, and margins and spaces between staves are conveniently wide to permit written notes, harmonic analysis, fingerings, and running measure numbers. This edition is practical for study, reference, enjoyment -- virtually any use.

About the Author
---
The triumphant genius of Ludwig van Beethoven (1770-1827) casts a long shadow over classical music -- no other composer of the past two centuries has exercised an influence more profound than his. A product of the classicist generation, he was the first of the Romantics, and his exhilarating works remain undiminished in their powers of enchantment.