Symphonies 88-92 in Full Score: The Haydn Society Edition (Paperback)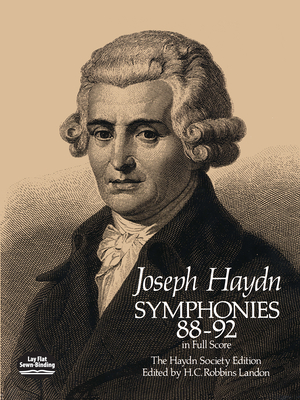 $24.95

Usually arrives at our store within 4-7 days
Description
---
Considered by most to be the father of the symphony, Franz Joseph Haydn (1732-1809) played a central part in the development of Classical music. His extended period of creativity spanned pronounced changes in musical style, from the late Baroque through the mid-century Viennese style to the mature Classical and even a foreshadowing of nineteenth-century Romanticism. All his works, especially his symphonies, are characterized by lucidity, perfect finish, studied moderations, avoidance of meaningless phrases, firmness of design, and richness of development.
This excellent republication of the definitive Haydn Society edition contains the full scores of: Symphony No. 88 in G Major (composed ca. 1787); Symphony No. 89 in F Major (composed 1787); Symphony No. 90 in C Major (composed 1788); Symphony No, 91 in E-flat Major (composed 1788); and Symphony No. 92 in G Major -- "Oxford" (composed 1789).
These scores are complemented by an extensive and exceptionally thorough Editor's Commentary by noted musicologist H. C. Robbins Landon.
These five symphonies (Nos. 88-92) form the bridge between the "Paris" symphonies (Nos. 82-87) and the "London" symphonies (Nos. 93-104). They clearly demonstrate the originality of Haydn's themes and melodies, the spontaneity of his ideas, and the clearness of his composition. Copious in musical ideas, highly animated yet delicate in construction, symphonies 88 through 92 exhibit many of the Haydnesque innovations that became so crucial to symphonic progress.
Large, readable noteheads, ample margins, opaque paper, and permanent binding make this a fundamental addition to every musician's library; a book for all who pay tribute to Haydn and who agree with Grove's Dictionary: "It is impossible to overrate his creative powers."
About the Author
---
Austrian composer Joseph Haydn (1732-1809), one of the most prolific and prominent musicians of the Classical era, wrote in every genre. Friend to Mozart and teacher of Beethoven, he standardized the four-movement structure of the quartet, the form for which he is best known.