Symphonie Fantastique and Harold in Italy in Full Score (Paperback)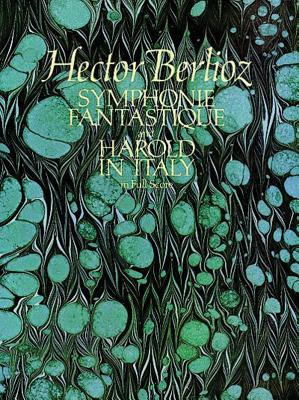 $29.95

Usually arrives at our store within 4-7 days
Description
---
Hector Berlioz (1803-1869), considered the father of modern orchestration, possessed an intuitive musical genius all the more remarkable for his limited formal musical education. A brilliant colorist, a master of the unexpected rhythmic break, he brought a new symphonic richness to Romantic music.
Both damned and venerated by his contemporaries -- Mendelssohn considered him devoid of talent, Paganini declared him the one true heir to the spirit of Beethoven -- Berlioz seems to have sought in music a way to soothe and give voice to the turbulent psychological instabilities and contradictions of what has come to be called program music -- i.e., instrumental music with an extramusical significance. He strove to communicate musically the experiences, psychological themes, scenic description, and literary allusions more commonly associated with the confessional writings of Romantic poets.
This Dover edition presents two of the greatest of these program pieces: the Symphonie Fantastique (1830) and Harold in Italy (1834). Here are the full scores of both major symphonic works -- painstakingly reproduced from the authoritative Breitkopf & H rtel edition, available for the first time in one convenient volume -- plus Berlioz's program for the Symphonie Fantastique.
Musicians and music lovers everywhere will value this high-quality, inexpensive edition -- ideal for study and performance.
About the Author
---
French composer Hector Berlioz (1803-69) exercised a significant impact on the development of Romanticism. His works influenced those of Wagner, Liszt, Strauss, and Mahler.