Six Great Piano Trios in Full Score (Dover Chamber Music Scores) (Paperback)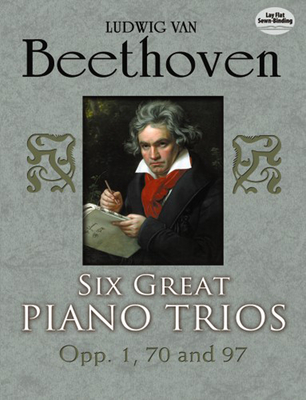 Description
---
Here are six of the most studied, performed, and recorded trios for piano, violin, and cello. They include the popular trio in D Major, Op. 70, No. 1, which was named the Ghost trio by Beethoven's student, Carl Czerny, who thought the eerie second movement suggested the specter of Hamlet's father.
Additional works include the trio in E-flat Major, Op. 1, No. 1; the trio in G Major, Op. 1, No. 2; the trio in C Minor, Op. 1, No. 3; the trio in E-flat Major, Op. 70, No. 2; and the trio in B-flat Major, Op. 97, also known as the Archduke trio. These works are reproduced from the authoritative Breitkopf and H rtel editions. Durable but inexpensive, this edition features a sturdy binding that allows pages to remain open on music stands for years of use and enjoyment.
About the Author
---
The triumphant genius of Ludwig van Beethoven (1770-1827) casts a long shadow over classical music -- no other composer of the past two centuries has exercised an influence more profound than his. A product of the classicist generation, he was the first of the Romantics, and his exhilarating works remain undiminished in their powers of enchantment.