William Tell and Other Overtures in Full Score (Paperback)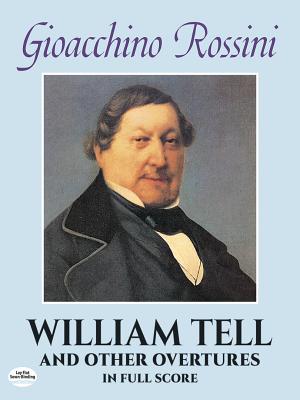 This item is not available.
Description
---
Aside from The Barber of Seville, most of Gioacchino Rossini's 39 operas are revived only rarely today, although many of their arias and other elements are frequently performed in concerts and recordings. The overtures to his operas, however, are another matter entirely. Evergreen in their appeal, many remain popular mainstays of repertoires worldwide, loved by audiences for their elegance, lively rhythms, and beautiful melodies.
This volume contains five of the most admired of Rossini's operatic overtures, reprinted from authoritative full-score editions. Included are William Tell; The Thieving Magpie; The Silken Ladder; Mr. Bruschino, or The Accidental Son; and Semiramide. Each reveals Rossini's wonderful feeling for theater in beautifully crafted orchestrations. Brought together in our high-quality volume, with background information on each work, these five full scores give music lovers the opportunity to study the unique details of each composition.