London Symphonies Nos. 99-104 in Full Score (Paperback)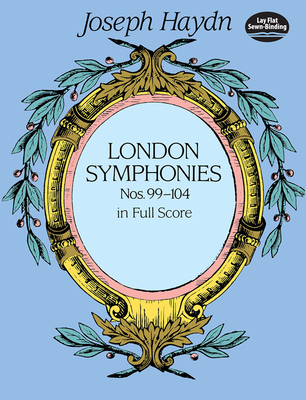 $26.95

Usually arrives at our store within 4-7 days
Description
---
It was in his monumental 12 "London" symphonies, composed between 1791 and 1795, that Haydn shaped the early form of the symphony and set the standard for later composers. According to the New Grove's Dictionary of Music and Musicians, the appeal of these works stems from their stature as "grand" symphonies, embodying a "broader presentation of musical ideas" and "themes and motifs of a basic simplicity and immediate appeal."
The present volume contains the last six symphonies in the series, including the lively "Military" Symphony (No. 100), the delightful "Clock" Symphony (No. 101), and the world-famous "London" Symphony (No. 104).
Scores included in this volume are Symphony No. 99 in E-flat Major; Symphony No. 100 in G Major ("Military"); Symphony No. 101 in D Major ("The Clock"); Symphony No. 102 in B-flat Major; Symphony No. 103 in E-flat Major ("Dumroll"); and Symphony No. 104 in D Major ("London").
The attractive qualities of these works have made them perennial favorites with musicians and concertgoers for over two hundred years. Now music lovers can study and enjoy the elegant structure and polished orchestration of these enduring masterpieces in this authoritative full-score edition.
About the Author
---
Austrian composer Joseph Haydn (1732-1809), one of the most prolific and prominent musicians of the Classical era, wrote in every genre. Friend to Mozart and teacher of Beethoven, he standardized the four-movement structure of the quartet, the form for which he is best known.