There are no products in your shopping cart.
Railtown: The Fight for the Los Angeles Metro Rail and the Future of the City (Paperback)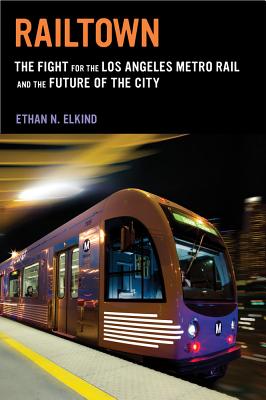 Description
---
The familiar image of Los Angeles as a metropolis built for the automobile is crumbling. Traffic, air pollution, and sprawl motivated citizens to support urban rail as an alternative to driving, and the city has started to reinvent itself by developing compact neighborhoods adjacent to transit. As a result of pressure from local leaders, particularly with the election of Tom Bradley as mayor in 1973, the Los Angeles Metro Rail gradually took shape in the consummate car city.

Railtown presents the history of this system by drawing on archival documents, contemporary news accounts, and interviews with many of the key players to provide critical behind-the-scenes accounts of the people and forces that shaped the system. Ethan Elkind brings this important story to life by showing how ambitious local leaders zealously advocated for rail transit and ultimately persuaded an ambivalent electorate and federal leaders to support their vision.

Although Metro Rail is growing in ridership and political importance, with expansions in the pipeline, Elkind argues that local leaders will need to reform the rail planning and implementation process to avoid repeating past mistakes and to ensure that Metro Rail supports a burgeoning demand for transit-oriented neighborhoods in Los Angeles. This engaging history of Metro Rail provides lessons for how the American car-dominated cities of today can reinvent themselves as thriving railtowns of tomorrow.




About the Author
---
Ethan N. Elkind researches and writes on climate change law and policy with a joint appointment at UC Berkeley School of Law and UCLA School of Law.

Praise For…
---
"Generally known as the car-commuter capital of the country, Los Angeles has had a long and complicated relationship with public transportation, and Elkind . . . has taken on the daunting task of mapping out the messy saga."
— Los Angeles Magazine
"A fascinating account of LA's move away from an almost religious attachment to the automobile."
— Legal Planet
"Essential reading."
— California Planning & Development Report
"Railtown is a must-read for everyone interested in the still-unfolding renaissance of rail in LA and a recommended read for any urban scholar wanting to be fascinated by the intricacies of local infrastructure decision-making."
— International Journal of Urban and Regional Research
"For those wanting to understand the details of Metro Rail's checkered history, this is the book to read."
— Urban Land
"Anyone interested in urban transportation policy will profit from reading Railtown."
— George Mason University Magazine