Jerusalem: History of a Global City (Hardcover)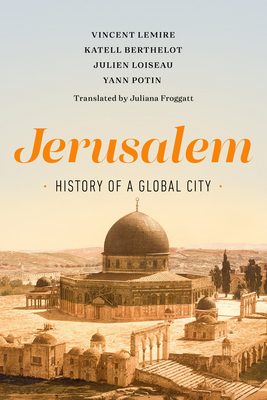 Description
---
An expansive history of Jerusalem as a cultural crossroads, and a fresh look at the urban development of one of the world's most mythologized cities.

Jerusalem is often seen as an eternal battlefield in the "clash of civilizations" and in endless, inevitable wars of religion. But if we abandon this limiting image when reviewing the entirety of its concrete urban history—from its beginnings to today—we discover a global city at the world's crossroads. Jerusalem is the common cradle of Judaism, Christianity, and Islam, whose long and intertwined pasts include as much exchange and reciprocal influence as conflict and confrontation. This synthetic account is the first to make available to the general public Jerusalem's whole history, informed by the latest archaeological finds, unexplored archives, and ongoing research and offering a completely renewed understanding of the city's past and geography. This book is an indispensable guide to understanding why the world converges on Jerusalem.
About the Author
---
Vincent Lemire is Associate Professor of Contemporary History at Gustave Eiffel University, Director of the Open Jerusalem European Research Council project, and Director of the French Research Center in Jerusalem. His most recent book is Jerusalem 1900: The Holy City in the Age of Possibilities.
 
Katell Berthelot is a historian working on Jews and Judaism in the Hellenistic and Roman periods and Professor at the French National Center for Scientific Research and Aix-Marseille University. She is the author of In Search of the Promised Land? The Hasmonean Dynasty between Biblical Models and Hellenistic Diplomacy and Jews and Their Roman Rivals: Pagan Rome's Challenge to Israel.
 
Julien Loiseau is Professor of the History of the Medieval Islamic World at Aix-Marseille University and former Director of the French Research Center in Jerusalem. A historian and Arabist, he has devoted his research to Egypt, Palestine, and Ethiopia in the Middle Ages. He is the author of The Mamluks: Political Experience in Medieval Islam.
 
Yann Potin, a historian and archivist, is a Senior Research Fellow at the French National Archives and Associate Professor of Legal History at the Institute of Public Law and Political and Social Sciences at Sorbonne Paris North University. He is coeditor of France in the World: A New Global History.

Juliana Froggatt is an editor and translator who lives in Ferney-Voltaire, France.
Praise For…
---
"A welcome addition to the historiography on the holy city. . . . Jerusalem is an engrossing read, making the sacred city's multilayered history come alive."
— Religion
"Vivid, clear, and easily understood. . . .This is the book for anyone who loves Jerusalem and has an interest in its history—and does not fear footnotes and references."
— Middle East Quarterly