The Big Ones: How Natural Disasters Have Shaped Us (and What We Can Do About Them) (Paperback)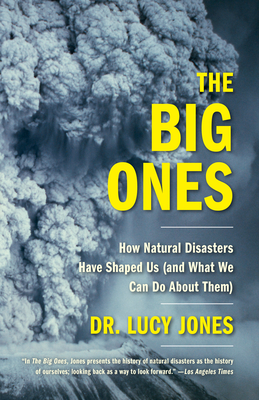 Description
---
By the world-renowned seismologist, a riveting history of natural disasters, their impact on our culture, and new ways of thinking about the ones to come

Earthquakes, floods, tsunamis, hurricanes, volcanoes--they stem from the same forces that give our planet life. Earthquakes give us natural springs; volcanoes produce fertile soil. It is only when these forces exceed our ability to withstand them that they become disasters. Together they have shaped our cities and their architecture; elevated leaders and toppled governments; influenced the way we think, feel, fight, unite, and pray. The history of natural disasters is a history of ourselves.

In The Big Ones, leading seismologist Dr. Lucy Jones offers a bracing look at some of the world's greatest natural disasters, whose reverberations we continue to feel today. At Pompeii, Jones explores how a volcanic eruption in the first century AD challenged prevailing views of religion. She examines the California floods of 1862 and the limits of human memory. And she probes more recent events--such as the Indian Ocean tsunami of 2004 and the American hurricanes of 2017--to illustrate the potential for globalization to humanize and heal.

With population in hazardous regions growing and temperatures around the world rising, the impacts of natural disasters are greater than ever before. The Big Ones is more than just a work of history or science; it is a call to action. Natural hazards are inevitable; human catastrophes are not. With this energizing and exhaustively researched book, Dr. Jones offers a look at our past, readying us to face down the Big Ones in our future.
About the Author
---
DR. LUCY JONES was a seismologist for the U.S. Geological Survey for thirty years, most recently as science advisor for risk reduction. She created the Great ShakeOut Drill, an earthquake preparation experiment that by 2016 included 53 million participants around the world. A research associate at Caltech, she holds a Ph.D. in geophysics from MIT and a B.A. in Chinese language and literature from Brown University. She lives in Southern California.
Praise For…
---
*An Amazon Best Science Book of 2018*

"In The Big Ones, Jones presents the history of natural disasters as the history of ourselves; looking back as a way to look forward."
—Los Angeles Times

"This incredible book by leading seismologist Dr. Lucy Jones shows just how influential natural disasters are on life as we know it."
—Chicago Review of Books (The Best Nature Writing of 2018 So Far)

"[A] bracing examination…This work could prove beneficial to all who live in an area prone to natural disasters, which is just about everyone."
—Publishers Weekly

"For all her impressive expertise, Jones delivers a very accessible book—without sacrificing the scientific content, the text is sprinkled with relatable analogies to help readers better understand some of the more technical geological processes...Touching on environmental science, history, sustainability, plate tectonics, engineering, and design, this book is sure to have broad appeal."
—Library Journal

"Lively and provocative."
—Los Angeles Review of Books  

"Jones is a gifted storyteller, making complex geologic concepts accessible and having fun along the way . . . And she provides hope that, when disaster strikes, communities will persevere."
—Shelf Awareness

"Jones' fascinating book takes a long view at natural events in order to help us understand our environment and to prepare for and survive natural disasters."
—BookPage
 
"Seismologist Lucy Jones deploys arresting details to brilliant effect throughout The Big Ones."
—Maclean's

"The Big Ones is a timely and essential remembrance of how natural disasters have changed the world in dramatic ways. Lucy Jones is a first-rate storyteller and fine researcher."
—Douglas Brinkley, New York Times bestselling author of Rightful Heritage and The Great Deluge

"Nobody does a better job of explaining the science of disasters and the psychology of humans than Lucy Jones. This book is priceless—both as a history and a prophecy."
—Amanda Ripley, New York Times bestselling author of The Smartest Kids in the World and The Unthinkable