The Stray (Hardcover)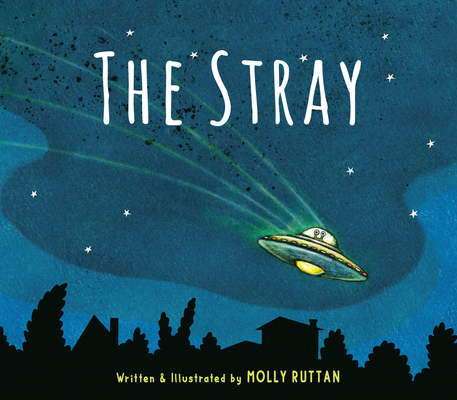 Description
---
Adopting an extraterrestrial leads to hilariously mixed results!

When a family goes for a stroll one morning and encounters an adorable little creature with no collar or tag (who just happens to be sitting in the wreckage of an unidentified crash-landed object), they happily adopt the lovable stray. They name him Grub and set about training him, but that works surprisingly . . . poorly. Taking him for a walk is an unexpected adventure, too. As hard as they try to make Grub feel at home, it's just not working. Could he already have a family of his own? Maybe he isn't really a stray, after all--just lost. But how on earth will they be able to find his family when he seems to come from somewhere . . . out of this world?
About the Author
---
Molly Ruttan (mollyruttan.com) illustrated I Am a Thief (by Abigail Rayner), and The Stray is the first book she has both written and illustrated. She grew up in Hastings-on-Hudson, New York, earned a BFA in graphic design from the Cooper Union School of Art in New York, and established a career as a graphic designer and illustrator in Los Angeles. She is married to her childhood friend and music producer, Gabriel Moffat. In addition to illustrating, drawing, painting, and writing, and parenting three daughters, Molly works part-time as a freelance graphic designer; plays drums and sings in the eclectic-folk rock band New Garden; creates artwork for, records, and performs as a backup singer and percussionist in the progressive art rock band Phideaux (bloodfish.com); and is a member of the Silverlake Conservatory of Music's adult choir Silverlake Singers.
Praise For…
---
"This charming tale of a family's encounter with an amiable alien is really two parallel narratives, one told in the text and the other in the illustrations. The simple, straightforward text describes a family's relatively ordinary experience of finding a stray and adopting it as a pet. . . . The illustrations, however, depict a more unusual story. . . . Vibrant lime-green beams radiate from Grub's whiskers and surround objects as they float across the pages—a signal to readers that something truly alien is afoot. Smart page-turns and high-impact double-page spreads enhance the already clever dual narratives of a unique lost-pet story."—The Horn Book

"What the narrator never mentions—but readers can instantly see—is that the stray is a pet-size alien whose spaceship has crashed to earth. . . . [Ruttan's] digitally enhanced charcoal and pastel drawings have heightened textures and an inner radiance that infuse the everyday settings with a lovely fairy tale quality. One can almost believe that extraterrestrial magic really can happen in the most ordinary of places."—Publishers Weekly

"Many of the narrative details are cleverly embedded in the artwork: while the text alone reads as though the family has simply found a stray dog or cat, the illustrations clearly depict Grub as a small alien creature with stalk eyes and pointy teeth who emerges from a crashed spaceship and levitates objects in the family's house and neighborhood. Fun and layered, this is an appealing story for family bedtime reads."—Booklist