If You Come Softly: Twentieth Anniversary Edition (Hardcover)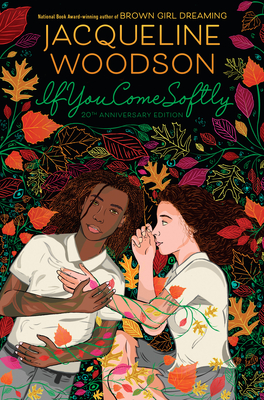 $17.99

Usually arrives at our store within 4-7 days
Description
---
A lyrical story of star-crossed love perfect for readers of The Hate U Give, by National Ambassador for Children's Literature Jacqueline Woodson--now celebrating its twentieth anniversary, and including a new preface by the author

Jeremiah feels good inside his own skin. That is, when he's in his own Brooklyn neighborhood. But now he's going to be attending a fancy prep school in Manhattan, and black teenage boys don't exactly fit in there. So it's a surprise when he meets Ellie the first week of school. In one frozen moment their eyes lock, and after that they know they fit together--even though she's Jewish and he's black. Their worlds are so different, but to them that's not what matters. Too bad the rest of the world has to get in their way.
 
Jacqueline Woodson's work has been called "moving and resonant" (Wall Street Journal) and "gorgeous" (Vanity Fair). If You Come Softly is a powerful story of interracial love that leaves readers wondering "why" and "if only . . ."
About the Author
---
Jacqueline Woodson (www.jacquelinewoodson.com) is the recipient of a 2020 MacArthur Fellowship, the 2020 Hans Christian Andersen Award, the 2018 Astrid Lindgren Memorial Award, and the 2018 Children's Literature Legacy Award. She was the 2018–2019 National Ambassador for Young People's Literature, and in 2015, she was named the Young People's Poet Laureate by the Poetry Foundation. She received the 2014 National Book Award for her New York Times bestselling memoir Brown Girl Dreaming, which was also a recipient of the Coretta Scott King Award, a Newbery Honor, the NAACP Image Award, and a Sibert Honor. She wrote the adult books Red at the Bone, a New York Times bestseller, and Another Brooklyn, a 2016 National Book Award finalist. Born in Columbus, Ohio, Jacqueline grew up in Greenville, South Carolina, and Brooklyn, New York, and graduated from college with a B.A. in English. She is the author of dozens of award-winning books for young adults, middle graders, and children; among her many accolades, she is a four-time Newbery Honor winner, a four-time National Book Award finalist, and a three-time Coretta Scott King Award winner. Her books include Coretta Scott King Award winner Before the Ever After; New York Times bestsellers The Day You Begin and Harbor Me; The Other Side, Each Kindness, Caldecott Honor book Coming On Home Soon; Newbery Honor winners Feathers, Show Way, and After Tupac and D Foster; and Miracle's Boys, which received the LA Times Book Prize and the Coretta Scott King Award. Jacqueline is also a recipient of the Margaret A. Edwards Award for lifetime achievement for her contributions to young adult literature and a two-time winner of the Jane Addams Children's Book Award. She lives with her family in Brooklyn, New York.
Praise For…
---
One of TIME MAGAZINE's 100 Best YA Books of All Time

"Woodson infuses their romance with the emotional urgency that defines her work and a prescient sense of social justice."--TIME MAGAZINE

* "Once again, Woodson handles delicate, even explosive subject matter with exceptional clarity, surety and depth. In this contemporary story about an interracial romance, she seems to slip effortlessly into the skins of both her main characters. . . . Both voices convincingly describe the couple's love-at-first-sight meeting and the gradual building of their trust. The intensity of their emotions will make hearts flutter, then ache as evidence mounts that Ellie's and Jeremiah's 'perfect' love exists in a deeply flawed society. Even as Woodson's lyrical prose draws the audience into the tenderness of young love, her perceptive comments about race and racism will strike a chord with black readers and open the eyes of white readers."--Publishers Weekly, starred review

"Woodson offers readers a poetically conceived novel of young love, permeated with complications of family dynamics, racism, and violence. . . . Woodson unerringly limns the delicate intensity and passionate innocence of first love. . . . The two points of view effectively communicate the loneliness of the two sensitive teenagers and their breathless delight in discovering one another. Characterization is solid and well-developed as both parents and frirends focus into reality through the eyes of Miah and Ellie. Their conversations ever so gently open up issues of racism, self-awareness, and moral consciousness."--The Bulletin of the Center for Children's Books

"Woodson perceptively explores varieties of love, trust, and friendship, as she develops well-articulated histories for both families. . . . A tale as rich in social and personal insight as any of Woodson's previous books."--Kirkus Reviews

"Lyrical narrative. . . . This fine author once again shows her gift for penning a novel that will ring true with young adults as it makes subtle comments on social situations."--School Library Journal

"As in all her fiction, Woodson confronts prejudice head-on."--Booklist

"Gracefully told."--KLIATT