Canyon Dreams: A Basketball Season on the Navajo Nation (Paperback)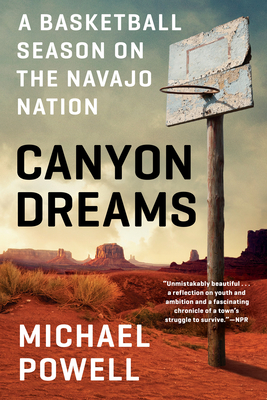 $18.00

Usually arrives at our store within 4-7 days
Description
---
The moving story of a Navajo high school basketball team, its members struggling with the everyday challenges of high school, adolescence, and family, and the great and unique obstacles facing Native Americans living on reservations.
 
Deep in the heart of northern Arizona, in a small and isolated patch of the vast 17.5-million-acre Navajo reservation, sits Chinle High School. Here, basketball is passion, passed from grandparent to parent to child. Rez Ball is a sport for winters where dark and cold descend fast and there is little else to do but roam mesa tops, work, and wonder what the future holds. The town has 4,500 residents and the high school arena seats 7,000. Fans drive thirty, fifty, even eighty miles to see the fast-paced and highly competitive matchups that are more than just games to players and fans.
 
Celebrated Times journalist Michael Powell brings us a narrative of triumph and hardship, a moving story about a basketball team on a Navajo reservation that shows how important sports can be to youths in struggling communities, and the transcendent magic and painful realities that confront Native Americans living on reservations. This book details his season-long immersion in the team, town, and culture, in which there were exhilarating wins, crushing losses, and conversations on long bus rides across the desert about dreams of  leaving home and the fear of the same.
About the Author
---
Michael Powell has been a writer at the New York Times since 2007, and a "Sports of The Times" columnist since 2014. Before joining the Times, he worked for the Washington Post from 1996 to 2006, where he covered the 2000 presidential campaign and later served as New York bureau chief. He has been part of teams that won the Pulitzer Prize and the Polk Award. Powell began his career in 1984 at the Burlington Free Press, going on to positions with the Bergen Record, New York Newsday, and the New York Observer. He studied American and African history at SUNY Purchase College, worked as a tenant organizer in East Flatbush, and received his master's degree from Columbia University's Graduate School of Journalism in 1984. Powell and his wife have two sons. They live in Ditmas Park, Brooklyn.
Praise For…
---
Praise for Canyon Dreams:
"What a beautiful, big-hearted, illuminating  book Michael Powell has written. Canyon Dreams is at once particular and universal as we follow the coming of age journey of the Navajo basketball boys of Chinle High."--David Maraniss, author of Clemente: The Passion and Grace of Baseball's Last Hero

"In Canyon Dreams, Michael Powell transports us to a Navajo reservation with an old basketball coach who teaches the X and O's of hope to a group of high-schoolers who have had little reason to believe it exists. It is as inspiring as it is heartbreaking: I couldn't put it down."—Joe Drape, author of the New York Times bestseller Our Boys: A Perfect Season on the Plains with the Smith Center Redmen

"Unmistakably beautiful. Powell is a gifted and giving writer, and his book is at once a reflection on youth and ambition and a fascinating chronicle of a town's struggle to survive in a world that's often cruel and hostile."—NPR

""(An) engrossing, more expansive book….[Canyon Dreams] becomes a gripping, propulsive story about a playoff run."—Washington Post

"Powell knows his basketball, and his game accounts are exciting, but the real strength of Canyon Dreams is the insight it provides into the unique culture of the reservation."—Booklist

"Delivering a deeply felt portrait of life… As exciting as a full-court press and a thoughtful study of young athletes in a world little known to outsiders."—Kirkus Reviews

"Powell's immersion in the people and their traditions is heartfelt and lyrical, tied to the land and culture that leave kids to ponder 'Can I leave this? I don't know yet. It's my puzzle.'"—Shelf Awareness

"Powell writes with intense empathy about the limited choices and chances players face after their glory days at Chinle High…. Powell's intimate portrayal of students, teachers and an inspirational coach at Chinle High School is an important contribution to the literature on the education crisis that's affecting native youth."—Liz Willen, The Hechinger Report

"Canyon Dreams is a sports book, but one unlike any you've read before, and one that will stay with you long after the final horn has sounded."—Minneapolis Star Tribune

"With Canyon Dreams, [Powell] combines his journalist's keen observational skill with a poet's sensitivity and creates a book which will linger in the minds of readers long after the final page has been finished."—Lincoln Journal Star

"Powell captures the hopes and fears of his subjects, affirming that sports are more than just a game—they're a proving ground, a motivating factor, and an escape from the hardships of generational trauma"—Tribal College Journal, Best Native Books of 2019