A Rising Tide: A Cookbook of Recipes and Stories from Canada's Atlantic Coast (Hardcover)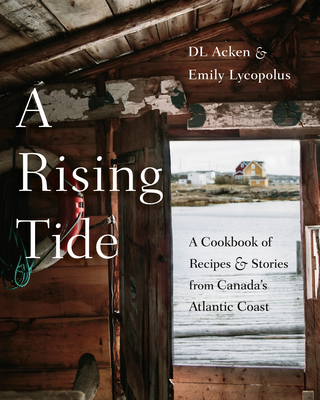 Description
---
AN INSTANT GLOBE & MAIL BESTSELLER!

A beautiful journey through Canada's Atlantic Coast—from the pastorals of Prince Edward Island to the wilds of Newfoundland—celebrating the region's rich culinary community, and the innovative chefs and producers who make it.

A Rising Tide is a love letter to the culinary renaissance of Canada's Atlantic Coast written by DL Acken and Emily Lycopolus—both of whom grew up eating classic Atlantic Canadian dishes and spent months in the region exploring its burgeoning food scene. Whether you are discovering the East Coast's countryside, seaside towns, or bustling cities, there is a thriving food scene, united by a revived culinary identity that celebrates the region's terroir, and marries heritage with innovation.

Enjoy more than 100 inventive recipes, many by beloved local chefs, and travel to meet the fishermen, producers, foragers, and restaurateurs who have come to define the region's incredible cuisine. Celebrate local ingredients for each meal of the day no matter where you are thanks to the book's ingredient substitutions guide. Featuring seasonal menus as well as gorgeous landscape and food photography throughout, A Rising Tide is a souvenir and a delicious roadmap to enjoy all of Atlantic Canada's wonders.
About the Author
---
DL ACKEN is a food photographer and writer with over 20 years' experience behind the lens and pen. She has familial roots in the East Coast and currently splits her time between London, UK, and her farm studio on Canada's beautiful Salt Spring Island. Recent works include cookbooks for Phaidon Publishing, Touchwood Editions, and Barlowe Publishing, and co-authoring Cedar + Salt with Emily Lycopolus.

EMILY LYCOPOLUS is the author of seven cookbooks, including the Recipes for Olive Oil and Vinegar Lovers series and co-authoring Cedar + Salt. She is a level 2 olive oil sommelier and holds an MA in Cultural Anthropology. Her specialties include recipe development and R&D. She co-founded EAT Creative with DL Acken, a food-focused bespoke content creation agency.
Praise For…
---
"Oh, how I loved this visual and culinary walk through my favourite corner of the world. This is so much more than just an excellent cookbook, it offers a glimpse into our past, present, and future here in Atlantic Canada."
—ALAN DOYLE, musician, actor, and author of All Together Now, A Newfoundlander in Canada, and Where I Belong
 
"Atlantic Canada holds a special place in my heart. The spirit and energy of the people and places are incredible. They share a true love of local food and genuinely celebrate their passionate farmers, fishermen, and culinary artisans. This is why I am excited about A Rising Tide. Just flipping through the pages brings back great memories of my East Coast travels. I can't wait to cook some of these delicious dishes for my family and create new memories around the dinner table." 
—LYNN CRAWFORD, chef
 
"A Rising Tide paints one of the most accurate pictures of what modern day cooking is in Atlantic Canada . . . a perfect blend of culinary history, ingredients, land, sea, and the creative people who tell the stories of place through food. The recipes are familiar yet bursting with a fresh vibrancy that comes from chefs who understand where they are. The photographs are so beautiful they make me want to rush outside and look out at the sea, or perhaps an apple orchard."
—CRAIG FLINN, executive chef and president of ECD Restaurants Inc.& Fork in the Road Productions
 
"Emily and Danielle have given us a love letter to Atlantic Canada. The stories and history, and passion and tastes of each Atlantic province are all brought to life by the book's gorgeous photography and mouthwatering recipes. This book will stay in my kitchen as I bring to life the memories and tastes of lobster rolls, blueberry grunts, and more!" 
—CHRISTINE COUVELIER, global culinary trendologist, executive chef