Nothing Stays Put: The Life and Poetry of Amy Clampitt (Hardcover)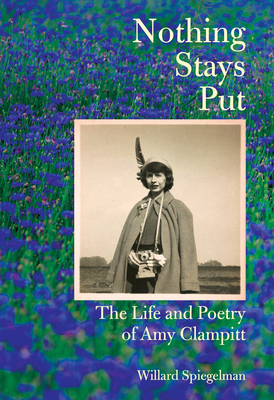 Description
---
An evocative portrait of the beloved and acclaimed poet, whose late-in-life success took the literary world by storm.

"Clampitt comes to life here...Spiegelman's Nothing Stays Put embodies a different kind of investigation, not surveillance but a thoughtful examination that at times still spins off into a kind of awe." —The Washington Post

With the publication of her first book of poems in her sixty-third year, Amy Clampitt rose meteorically to fame, launching herself from obscurity to the upper ranks of American poetry all but overnight, and living a whirlwind eleven years, until her death in 1994. Years later, as renowned poetry scholar Willard Spiegelman wades into her papers and poems, he discovers a woman of dazzling intellect, staunch progressive politics, and an inexhaustible sense of wonder for the world and the words we've invented to describe it.

Giving equal weight to the life and the poetry, Spiegelman untangles Clampitt's famously allusive lines to reveal the experiences they emerged from, pulling the curtain back on her nearly four decades of artistic anonymity, and in doing so assembling a rich period piece of Manhattan during the days in which Clampitt worked for Oxford University Press and the National Audubon Society—writing cheery, discursive office memos, and two novels that never got published, before hitting her stride in verse.

Nothing Stays Put is a gift to poetry fans, an inspiration to artists striving at any age, and an ode to this most unlikely of literary celebrities, who would publish five acclaimed books and win a MacArthur "Genius Grant" nearly all in the final decade of her life.
About the Author
---
WILLARD SPIEGELMAN was for many years the Hughes Professor of English at Southern Methodist University in Dallas, and the longtime editor of the Southwest Review. Since 1987 he has written about books and the arts for The Wall Street Journal. A recipient of fellowships from the National Endowment for the Humanities, Guggenheim, Rockefeller, and Bogliasco Foundations, he is the author of eight books of literary criticism and personal essays, and the editor of Love, Amy: The Selected Letters of Amy Clampitt. Spiegelman currently lives in Stonington, Connecticut, and New York City.
Praise For…
---
"Clampitt comes to life here . . .  Spiegelman's Nothing Stays Put embodies a different kind of investigation, not surveillance but a thoughtful examination that at times still spins off into a kind of awe."
—Carol Muske-Dukes, The Washington Post

"One comes away from this book moved and inspired. Spiegelman's prose is elegant and understated, and his research quietly impressive . . . One of the pleasures of this biography is watching Spiegelman keep pace with his subject's roving, hungry mind. His insistence upon treating Clampitt as the curious and generous intellectual she was is commendable and refreshing . . . Spiegelman's close readings of Clampitt's poems, too, are always illuminating . . . Clampitt is lucky to have the attention of such a sympathetic, literary biographer."
—Heather Clark, Poetry Foundation

"An insightful and enthralling account of Clampitt's exquisite art and her long journey from virtual obscurity to poetic celebrity . . . [An] astute analysis of [Clampitt's] poems that truly satisfies . . . A detailed portrait of an independent spirit and a remarkable poet."
—Malcolm Forbes, The Wall Street Journal

"This lucid biography tracks [Amy Clampitt's] path to eventual fame . . . Spiegelman insists that much cannot be known about a poet so resolutely private, though he successfully evokes an artist with a will strong enough to endure decades of false starts."
—The New Yorker

"Stay put long enough to read this book! Amy Clampitt was a quirky, bookish, intoxicated, and radiant spirit, and Willard Spiegelman has captured her bright light in this delightfully offbeat, critical, erudite, and ardent biography."
—Edward Hirsch, author of Stranger by Night

"From the bright strands of Amy Clampitt's extraordinary life and poems—plus letters, diaries, and extensive interviews—Willard Spiegelman has woven a gorgeous tapestry of a book, and the authoritative account of one of our most beloved poets. Some biographies pin their subjects to the page like stiff butterflies, but Nothing Stays Put brings us Clampitt in all her brilliance: vivid, restless, and alive."
—Patrick Phillips, author of Song of the Closing Doors

"With tenderness and a sense of wonder, Willard Spiegelman recreates the improbable life of the poet Amy Clampitt. We watch the Iowa farm girl make her way to New York City and live for years in bohemian obscurity before blazing into public view at age sixty-three with her radiantly original first book of poems, The Kingfisher. As Spiegelman feels his way into the mysterious development of Clampitt's art, he invites us to consider, as well, 'the ungraspable mystery at the heart of all selfhood.' A work of devoted, delicate, and impeccable scholarship."
—Rosanna Warren, author of Max Jacob: A Life in Art and Letters

"Amy Clampitt admired the lush intensities of John Keats and Hart Crane. Yet her life was nothing like theirs. Or was it? Maybe the soaring creativity that came to her late in life is another version of their early kind. With authority, sympathy, and aplomb, Willard Spiegelman brings Clampitt's poetry back into view, while managing gaps and mysteries in the record to fit together the story of political and spiritual searching from which her artistry grew."
—Langdon Hammer, author of James Merrill: Life and Art

"What joy: hours and hours in the thrilling company of the extraordinarily gifted, large-souled, inspiring poet Amy Clampitt—thanks to her superb and devoted biographer. Willard Spiegelman's Nothing Stays Put is a triumph of literary scholarship and imagination."
—Sigrid Nunez, author of What Are You Going Through

"When 63 year-old Amy Clampitt 'came glancing like an arrow' onto the American scene in 1983, 'the color of felicity afire,' her distinctive art deranged the status quo the way genuine poetry always does, sparking ardor along with umbrage, a decade-long run of laurels as well as brickbats. Just how are we to account for this self-taught 'next-to-unidentifiable wildling'? What could have led to this unlikely unforeseen late-in-life efflorescence? At last, Willard Spiegelman is on the case. Discerning and relishing in equal measure, Nothing Stays Put helps us to see this 'lone, poised, hovering rarity' more keenly and value her poems anew: a true literary event. (And may a rediscovered Amy Clampitt once again resuscitate and defibrillate our American poetry!)"
—Atsuro Riley, author of Heard-Hoard

"Few readers are likely to connect Marcel Proust and Amy Clampitt, yet Nothing Stays Put has one thing in common with Remembrance of Things Past. Like Proust, Clampitt did not reach her artistic potential until late in life, and yet everything that came before seems to be preparation for the vocation of writer. As the editor of Clampitt's correspondence, Willard Spiegelman is well positioned to tell this story. He draws as well from her travel notebooks, interviews, anecdotes of friends, family, and students, from cultural history and his own visits to the places that shaped her perspective. The result is a lively portrait of a quirky Iowa farm girl with an intense inner life who heads to New York, interacts with artistic communities, finds romance, supports herself with jobs at Oxford Press and the Audubon Society, travels, explores religion and political activism, and writes unsuccessful novels and stories along the way until she discovers her calling as a poet. Spiegelman never reduces Clampitt's poems to autobiography, but he helps us see how they reflect the experience of this restless, searching personality.  His portrait is a work of sympathetic imagination, asking at every turn—from small town Iowa in the thirties to New York City in the forties, from obscurity to fame—what was it like?"
—Bonnie Costello, author of The Plural of Us: Poetry and Community in Auden and Others

"With a generosity of spirit much like Amy Clampitt's own, the gifted Willard Spiegelman has written an extraordinary book, one of textured imagination and great openings, a book of revelation in reticence—and a book that's just an old-fashioned delight to read. It'll stand tall on any biography shelf, brimming as it does with both poetry and life."
—Brenda Wineapple, author of The Impeachers: The Trial of Andrew Johnson and the Dream of a Just Nation

"The poet Amy Clampitt burst onto the literary scene in the early eighties, offering a style and bravado unmatched by her contemporaries. In this comprehensive biography Willard Spiegelman unravels the mysteries of Clampitt from Iowa farm girl to mature poet whose fame bloomed later in life. Clampitt recalls the young naturalist attuned to the resonance and rhythm of the natural world: 'By the time my own memory begins, shrubbery and shade trees, neatly fenced and gated, enclosed the place with what amounted for me to a charm, in the etymological sense of a spell against harm from without; and in the sense that the word derives from carmen , a song, my earliest consciousness is rooted in the stuff of poetry.' One of the most distinctive poets of the late 20th century, Clampitt breaks the boundaries of geography and of form to create an extraordinary language all her own."
—Elise Paschen, author of The Nightlife

"An insightful, exemplary literary biography . . . Spiegelman handles [Amy Clampitt's] personal life delicately, and he offers perceptive readings of her work. Although he claims that 'poems are the writer's best biography,' his discerning examination is outstanding."
—Kirkus, starred

"Scintillating, warmly conversational, and richly elucidating . . . Spiegelman vividly chronicles this late-bloomer's Quaker childhood in Iowa and nonconformist life in New York, where she worked in publishing and for the Audubon Society, traveling in Europe whenever possible, and gradually bringing to exalted fruition her profound ardor for language, literature, and nature; her spiritual quest and political activism, her omnivorous aesthetic of precision and serendipity."
—Booklist, starred