Peak: Secrets from the New Science of Expertise (Hardcover)
×
Warning message
Mean Menu style requires
jQuery
library version 1.7 or higher, but you have opted to provide your own library. Please ensure you have the proper version of jQuery included. (note: this is not an error)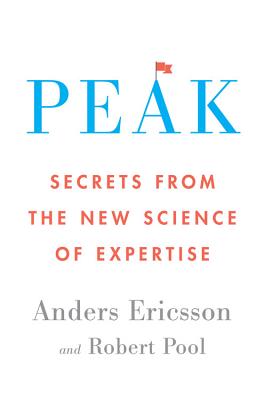 This item is not available.
Description
---
From the world's reigning expert on expertise comes a powerful new approach to mastering almost any skill.

Have you ever wanted to learn a language or pick up an instrument, only to become too daunted by the task at hand? Expert performance guru Anders Ericsson has made a career studying chess champions, violin virtuosos, star athletes, and memory mavens. Peak condenses three decades of original research to introduce an incredibly powerful approach to learning that is fundamentally different from the way people traditionally think about acquiring a skill.   Ericsson's findings have been lauded and debated, but never properly explained. So the idea of expertise still intimidates us — we believe we need innate talent to excel, or think excelling seems prohibitively difficult.  Peak belies both of these notions, proving that almost all of us have the seeds of excellence within us — it's just a question of nurturing them by reducing expertise to a discrete series of attainable practices. Peak offers invaluable, often counterintuitive, advice on setting goals, getting feedback, identifying patterns, and motivating yourself.  Whether you want to stand out at work, or help your kid achieve academic goals, Ericsson's revolutionary methods will show you how to master nearly anything.
About the Author
---
K. ANDERS ERICSSON, PhD, is Conradi Eminent Scholar and professor of psychology at Florida State University. He studies expert performance in domains such as music, chess, medicine, and sports. His groundbreaking work has been cited in bestsellers from Moonwalking with Einstein to Outliers to How Children Succeed. He lives in Florida.

ROBERT POOL, PhD, is a science writer living and working in Tallahassee, Florida. He has worked at some of the world's most prestigious science publications, including Science and Nature, and his work has appeared in many others, including Discover and Technology Review. He has written three books, including Eve's Rib: Searching for the Biological Roots of Sex Differences and Beyond Engineering: How Society Shapes Technology.    
Praise For…
---
 "This book is a breakthrough, a lyrical, powerful, science-based narrative that actually shows us how to get better (much better) at the things we care about." —Seth Godin, author of Linchpin
 
"Most 'important' books aren't much fun to read. Most fun books aren't very important. But with Peak, Anders Ericsson (with great work from Robert Pool) has hit the daily double. After all, who among us doesn't want to learn how to get better at life? A remarkable distillation of a remarkable lifetime of work." —Stephen J. Dubner, coauthor of Freakonomics and Superfreakonomics
 
"Ericsson's research has revolutionized how we think about human achievement. He has found that what separates the best of us from the rest is not innate talent but simply the right kind of training and practice. If everyone would take the lessons of this book to heart, it could truly change the world." —Joshua Foer, author of Moonwalking with Einstein
 
"The science of excellence can be divided into two eras: before Ericsson and after Ericsson. His groundbreaking work, captured in this brilliantly useful book, provides us with a blueprint for achieving the most important and life-changing work possible: to become a little bit better each day." —Dan Coyle, author of The Talent Code
 
"Wonderful. I can't think of a better book for a popular audience written on any topic in psychology." —Daniel Willigham, professor of psychology at the University of Virginia and author of Why Don't Students Like School?

"[Peak] offers an optimistic anti-determinism that ought to influence how people educate children, manage employees, and spend their time. The good news is that to excel one need only look within." – The Economist

"All good leaders want to get better, and anyone who wants to get better at anything should read [Peak]. Rest assured that the book is not mere theory. Ericsson's research focuses on the real world, and he explains in detail, with examples, how all of us can apply the principles of great performance in our work or in any other part of our lives." – Fortune

"This is an empowering, encouraging work that will challenge readers to reach for excellence." —Publishers Weekly
 
"[Ericsson] makes a strong case that success in today's world requires a focus on practical performance, not just the accumulation of information. Especially informative for parents and educators in preparing children for the challenges ahead." —Kirkus Reviews