A Duet for Home (Hardcover)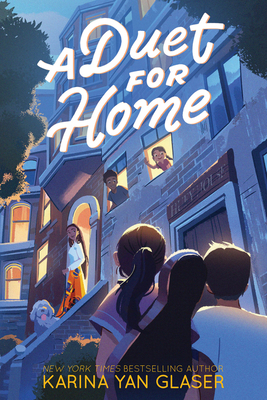 $16.99

Usually arrives at our store within 4-7 days
Description
---
From the New York Times bestselling creator of the Vanderbeekers series comes a triumphant tale of friendship, healing, and the power of believing in ourselves told from the perspective of biracial sixth-graders June and Tyrell, two children living in a homeless shelter. As their friendship grows over a shared love of classical music, June and Tyrell confront a new housing policy that puts homeless families in danger.
It's June's first day at Huey House, and as if losing her home weren't enough, she also can't bring her cherished viola inside. Before the accident last year, her dad saved tip money for a year to buy her viola, and she's not about to give it up now.
Tyrell has been at Huey House for three years and gives June a glimpse of the good things about living there: friendship, hot meals, and a classical musician next door.
Can he and June work together to oppose the government, or will families be forced out of Huey House before they are ready?
About the Author
---
Karina Glaser is the New York Times best-selling author of The Vanderbeekers series and A Duet for Home. A former teacher as well as employee of New York City's largest provider of transitional housing for the homeless, Karina is now a contributing editor at Book Riot. Karina lives in Harlem, New York City, with her husband, two children, and an assortment of rescue animals. One of her proudest achievements is raising two kids who can't go anywhere without a book. Visit her at karinaglaser.com 
Praise For…
---
Readers who love the Vanderbeekers will not be disappointed. Glaser effortlessly interweaves the story lines of two preteens living in a South Bronx homeless shelter. . . .The ending is poignant, focusing on possibility rather than certainty. Friendship, hopes and dreams come together in the final note that Glaser strikes. —Padma Venkatraman — New York Times Book Review
"Karina Yan Glaser doesn't flinch from the truth that too many kids are carrying such heavy weights through this world. With hope and humor, she shows us how friends and found family have the power to lighten the load. This book will make your heart sing." — Christina Soontornvat, Newbery Honor author
"A beautiful and compelling story about the discovery of power, with a world of characters I miss already." — Rebecca Stead, author of When You Reach Me
Glaser infuses this standalone novel with sweetness and optimism while acknowledging the complexities of her characters' lives. . . .A Duet for Home portrays how an appreciation for music and a desire to make the world more beautiful can give all young people—and perhaps especially the most vulnerable—a way to believe in themselves.  — BookPage (starred review)
"This is a hopeful and inspiring story about the lives of children who are rarely represented in middle-grade fiction. The young people engage in activism that is both thought-provoking and profound. A powerful, heartwarming, and thoughtful tale of kids cultivating chosen families during challenging circumstances." — Kirkus Reviews (starred review)
"Yan Glaser's bighearted standalone moves quickly through its complex plot without forsaking strong characterizations of Huey House's many staff and residents, concluding with a potent message about the power of direct action."
— Publishers Weekly (starred review)
"Drawing on her experiences working in a New York City homeless shelter, Glaser excels in her vivid, individual portrayals of the characters and their relationships. A heartening story as well as a memorable vision of homeless shelters as complex, supportive communities working toward positive change." — Booklist