There are no products in your shopping cart.
Chronicles of a Liquid Society (Hardcover)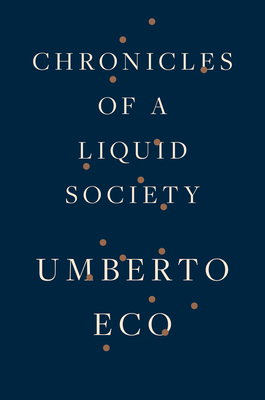 This book is no longer available.
Description
---
A posthumous collection of essays about the modern world from one of Europe's greatest, and best-selling, literary figures

Umberto Eco was an international cultural superstar. In this, his last collection, the celebrated essayist and novelist observes the changing world around him with irrepressible curiosity and profound wisdom. He sees with fresh eyes the upheaval in ideological values, the crises in politics, and the unbridled individualism that have become the backdrop of our lives—a "liquid" society in which it's not easy to find a polestar, though stars and starlets abound.
 
In these pieces, written for his regular column in L'Espresso magazine, Eco brings his dazzling erudition and keen sense of the everyday to bear on topics such as popular culture and politics, being seen, conspiracies, the old and the young, new technologies, mass media, racism, and good manners. It is a final gift to his reader—astute, witty, and illuminating.
About the Author
---
UMBERTO ECO (1932–2016) was the author of numerous essay collections and seven novels, including The Name of the Rose,The Prague Cemetery, and Inventing the Enemy. He received Italy's highest literary award, the Premio Strega, was named a Chevalier de la Légion d'Honneur by the French government, and was an honorary member of the American Academy of Arts and Letters.
RICHARD DIXON lives and works in Italy. His translations include works by Umberto Eco, Roberto Calasso, and Giacomo Leopardi. His translation of The Prague Cemetery by Umberto Eco was short-listed for the Independent Foreign Fiction Prize in 2012.
Praise For…
---
"Eco's famously ironic voice, well preserved in Richard Dixon's translation, is...penetrating...The issues Eco addresses are so enormous in their scale they seem insurmountable, yet his measured, erudite commentary assures you that they can be understood and therefore resolved."—FINANCIAL TIMES

"A remarkable collection, intellectually rigorous but accessible, thought-provoking but frequently funny, historically immersed but preternaturally aware of the world outside…Chronicles of a Liquid Society, for all of its weight and intellectual significance, is full of…small self-aware glimpses that feel like the bemused twinkling of an eye…As the final book to directly bear [Eco's] hand, Chronicles of a Liquid Society is a wonderful reminder of a great writer, thinker, and human being."—THE TORONTO STAR

"Eco is a critical thinker, a philosopher and theorist, but he writes with refreshing clarity…That [he] can be precise in his writing while respecting complexity and resisting dogmatism is a testament to his intellect… Though critiquing an increasingly unpredictable society, Eco's last reflections are strangely forward-looking and sensible. Chronicles of a Liquid Society forms a map of sorts with which to navigate the modern world."—SHELF AWARENESS

""What unifies this collection is Eco's understanding…We are not reading this book for novelty, but for conversation, for the personality and charitable understanding of an elder interested in everything, even the things he finds worrying."—WASHINGTON FREE BEACON

Quick-takes propelled by deep reflection and subtle humor."—PITTSBURGH POST-GAZETTE

"A swan song from one of Europe's great intellectuals. After publishing numerous novels, criticism, essays, and so much more, Eco died in 2016 at the age of 84. Like a few others before him, including Edmund Wilson and Lionel Trilling, among others, Eco proved that one could write for many audiences...There's a distinct Italian lean to these pieces, so some travel better than others, but it's not so much the information they convey as much as the intellect and thought processes of the conveyor...Eco entertains with his intellect, humor, and insatiable curiosity...There's much here to enjoy and ponder."—KIRKUS REVIEWS
 
"A posthumous collection of brief opinion pieces from late in Eco's career demonstrates the great novelist-scholar's lively wit and vigorous intellectual engagement with our rapidly changing world. Originally appearing in the Italian news magazine l'Espresso, the essays were intended as glimpses at whatever might come into his head: observations about current events and cultural trends as well as more esoteric intellectual topics. That his column was named after a well-known brand of matchbook underscores both his anecdotal, scratch-paper approach and the reliable, if quick, illumination provided...His erudition and his sharp critical eye remain constant...Eco will be missed."—BOOKLIST

"Eco's writing reveals a humanist in every sense of the word, well acquainted with the classics of Western civilization and able to take a broad, often amused view of human affairs...Dixon's translation is seamless, capturing Eco's erudite style...This volume's primary reward lies in the pleasure of watching a finely calibrated, expansive, and logical mind build an argument or deconstruct cant. Eco has left us an intelligent, intriguing, and often hilariously incisive set of observations on contemporary follies and changing mores."—PUBLISHERS WEEKLY

"Starting in 1985, novelist and essayist Eco (1932—2016) wrote a regular column for the Italian weekly L'Espresso...Although one may not recognize some of the philosophers and social thinkers analyzed and dissected here, the prose (excellently translated by Dixon) is easy to read and often amusing. VERDICT Recommended for all library collections. Readers familiar with Eco's entertaining, occasionally humorous style will be further delighted."—LIBRARY JOURNAL