There are no products in your shopping cart.
El Capitán Calzoncillos y la ridícula historia de los seres del inodoro morado (Captain Underpants #8) (Paperback)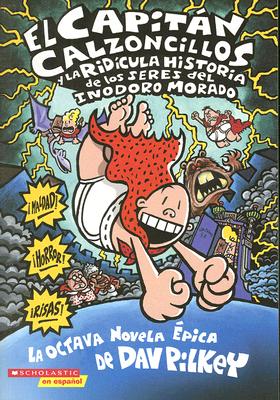 $5.99
We Can Order This For You
Description
---
THE WAIT IS OVER!!! Dav Pilkey's beloved Captain Underpants returns to face his nemesis--the evil Captain Blunderpants--with the help of two new superheroes, Great-Granny Girdle and Boxer Boy!
¿Se han vuelto Jorge y Berto completamente locos? Su Inodoro Morado los ha llevado a un lugar extrañísimo donde los maestros son amables, la comida de la cafetería es deliciosa y el director, el Sr. Carrasquilla, piensa que ellos son realmente graciosos. Algo está muy, pero muy mal... y se pone peor cuando los mellizos malvados que se parecen a Jorge y Berto secuestran a su pterodáctilo mascota, Galletas, y a Chuli, el hámster biónico. Ahora Jorge y Berto deben enfrentar a los enemigos más listos que hayan tenido jamás: ¡ellos mismos! Un nuevo reto para el increíble Capitán Calzoncillos.
About the Author
---
DAV PILKEY is the creator of many acclaimed children's books, including Dogzilla, Kat Kong, god bless the gargoyles, and the bestselling Captain Underpants series. His book The Paperboy received a Caldecott Honor. He lives in the Pacific Northwest. www.pilkey.com
DAV PILKEY is the creator of many acclaimed children's books, including Dogzilla, Kat Kong, god bless the gargoyles, and the bestselling Captain Underpants series. His book The Paperboy received a Caldecott Honor. He lives in the Pacific Northwest. www.pilkey.com
DAV PILKEY is the creator of many acclaimed children's books, including Dogzilla, Kat Kong, god bless the gargoyles, and the bestselling Captain Underpants series. His book The Paperboy received a Caldecott Honor. He lives in the Pacific Northwest. www.pilkey.com