Island of the Blue Dolphins: A Newbery Award Winner (Paperback)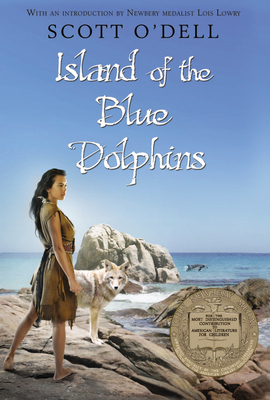 Description
---
Scott O'Dell's Newbery Medal-winning classic is a gripping tale of survival, strength, and courage. Based on the true story of a Nicoleño Indian girl living alone on an island off the coast of California, Island of the Blue Dolphins has captivated readers for generations.
On San Nicolas Island, dolphins flash in the surrounding blue waters, sea otter play in the vast kelp beds, and sea elephants loll on the stony beaches. Here, in the early 1800s, a girl named Karana spent eighteen years alone.
Karana had to contend with the ferocious pack of wild dogs that killed her younger brother, constantly guard against Aleutian sea otter hunters, and maintain a precarious food supply. Her courage, self-reliance, and grit has inspired millions of readers in this breathtaking adventure.
As Smithsonian magazine put it: "For kids all over the country, reading the book in language arts classes, Karana is a powerful symbol of their growing independence. Through her, they can imagine themselves making their way in the world alone—and thriving."
About the Author
---
Scott O'Dell (1898–1989), one of the most respected authors of historical fiction, received the Newbery Medal, three Newbery Honor Medals, and the Hans Christian Andersen Author Medal, the highest international recognition for a body of work by an author of books for young readers. Some of his many books include The Island of the Blue Dolphins, The Road to Damietta, Sing Down the Moon, and The Black Pearl.
Ted Lewin grew up in an old frame house in Buffalo, New York, with two brothers, one sister, two parents, a lion, an iguana, a chimpanzee, and an assortment of more conventional pets. The lion was given to his older brother, Don, while he was traveling as a professional wrestler, and he shipped it home. The family kept Sheba in the basement fruit cellar until Don returned and their mother convinced him to give it to the Buffalo zoo.
Ted always knew he wanted to be an illustrator. As a child he copied the work of illustrators and painters he admired, including N. C. Wyeth, Winslow Homer, John Singer Sargent, Velázquez, and Goya. When it came time to go to art school (Pratt), he needed to earn money to finance his education. So, following in his brother's footsteps, he took a summer job as a wrestler -- the beginning of a 15-year part-time career that eventually inspired his autobiographical book I Was a Teenage Professional Wrestler. Ted's career as an artist began with illustrations for adventure magazines, and it's only over the last several years that he has devoted his time to writing and illustrating children's books. "I'm having more fun doing this than anything I've ever done before," he says. He is an avid traveler, and many of his books are inspired by trips to such places as the Amazon River, the Sahara Desert, Botswana, Egypt, Lapland, and India. His Market!, published in 1996, showcases markets around the world, from Uganda to Ireland to Ecuador.
Touch and Go is a collection of stories about the adventures Ted had while researching his books. Gorilla Walk is his first collaboration with his wife, Betsy, and is about their trek to see the mountain gorillas in Uganda. They've just completed their second collaboration, Elephant Quest, set in the Okavango Delta of Botswana. Ted's current project is about a Civil War drummer boy.
Ted and Betsy live in Brooklyn, New York, where they share their home with two cats, Slick and Chopper.
Praise For…
---
"Years of research must have gone into this book to turn historical fact into so moving and lasting an experience." — The Horn Book
"A haunting and unusual story based on the fact that in the early 1800s an Indian girl spent eighteen years alone on a rocky island far off the coast of California. A quiet acceptance of fate characterizes her ordeal." — School Library Journal (starred review)
"Island of the Blue Dolphins is a unique story about a young Nicoleno girl named Karana who learned how to survive on an island by herself. This book continues to be a source of empowerment and adventure to any reader who decides to follow Karana's story." — The Guardian