Little Heathens: Hard Times and High Spirits on an Iowa Farm During the Great Depression (Paperback)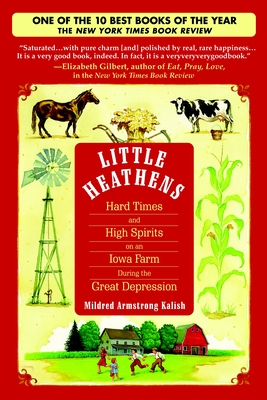 Staff Reviews
---
Mildred Kalish grew up during the Depression on an Iowa farm. She does a fantastic job of recounting her and her family's experiences during that really difficult time. I really enjoyed reading about the gardening, household chores, and cooking during a time when there was not running water or electricity in every household. You may find their resourcefulness inspiring as I did – waste not want not! This is a great read for those interested in times gone by.
— From
Sherri's Staff Picks
Fall '08/Winter '09 Reading Group List
---
"All generations would benefit from this delightful recollection of a time when hard times were met with cheerful self-sufficiency, and everyone from young to old was valued for their contributions to family and community. Book groups will find it interesting to compare how families and communities worked then and now."
— Rose Rhoades, University Book Store, Seattle, WA
Description
---
I tell of a time, a place, and a way of life long gone. For many years I have had the urge to describe that treasure trove, lest it vanish forever. So, partly in response to the basic human instinct to share feelings and experiences, and partly for the sheer joy and excitement of it all, I report on my early life. It was quite a romp.

So begins Mildred Kalish's story of growing up on her grandparents' Iowa farm during the depths of the Great Depression. With her father banished from the household for mysterious transgressions, five-year-old Mildred and her family could easily have been overwhelmed by the challenge of simply trying to survive. This, however, is not a tale of suffering.

Kalish counts herself among the lucky of that era. She had caring grandparents who possessed—and valiantly tried to impose—all the pioneer virtues of their forebears, teachers who inspired and befriended her, and a barnyard full of animals ready to be tamed and loved. She and her siblings and their cousins from the farm across the way played as hard as they worked, running barefoot through the fields, as free and wild as they dared.

Filled with recipes and how-tos for everything from catching and skinning a rabbit to preparing homemade skin and hair beautifiers, apple cream pie, and the world's best head cheese (start by scrubbing the head of the pig until it is pink and clean), Little Heathens portrays a world of hardship and hard work tempered by simple rewards. There was the unsurpassed flavor of tender new dandelion greens harvested as soon as the snow melted; the taste of crystal clear marble-sized balls of honey robbed from a bumblebee nest; the sweet smell from the body of a lamb sleeping on sun-warmed grass; and the magical quality of oat shocking under the light of a full harvest moon.

Little Heathens offers a loving but realistic portrait of a "hearty-handshake Methodist" family that gave its members a remarkable legacy of kinship, kindness, and remembered pleasures. Recounted in a luminous narrative filled with tenderness and humor, Kalish's memoir of her childhood shows how the right stuff can make even the bleakest of times seem like "quite a romp."
About the Author
---
Mildred Kalish is a retired professor of English who grew up in Garrison, Iowa, and taught at several colleges, including the University of Iowa, Adelphi University, and Suffolk Community College. She now lives with her husband in northern California.
Praise For…
---
"This lovely book, so unaffected and so generous, opens the door to a past I knew as a child in Iowa, and I wept with joy and recognition as I read it. It deserves a distinguished place next to Hamlin Garland's Son of the Middle Border but, with its deep humility, it would also fit, without a single word of protest, next to the Betty Crocker Cookbook."—Ted Kooser, U. S. poet laureate, 2004-2006

"Little Heathens is an enchanting but thoroughly unsentimental look at rural life in the Great Depression.  In clear clean prose we are offered the grit, struggle, and also the joy of hard work on a farm.  I cherish this book for its quite naked honesty and quiet lyricism about a time which makes our current problems nearly childish.  This is a fine book."—Jim Harrison, author of Legends of the Fall

"Now that cell phones are a way of life, you won't find a better way to participate in the Good Old Days. Whether you are of farm origins or not, Little Heathens is a bit of history begging to be borrowed. Like a neighborly cup of sugar, it will sweeten your modern-day life."—MaryJane Butters, author of MaryJane's Ideabook, Cookbook, Lifebook for the Farmgirl In All Of Us

"Using this book alone, one could reconstruct, with glorious exactness, a lost time and place.  Mildred Kalish has a novelist's eye for detail and a beautiful understanding of what the gestures of daily life mean.  A lovely, wise, transporting memoir."—Joan Silber, author of Ideas of Heaven: A Ring of Stories

"Not only trustworthy and useful, but also polished by real, rare happiness. It is a very good book, indeed. In fact, it's averyveryverygoodbook."—New York Times Book Review

"Unpretentious yet deeply intelligent ... [Little Heathens] radiates the joy of a vanished way of life.... In prose that never yields to mawkish sentimentality, Kalish details the roles of family, religion, thrift, and education in her upbringing."–Booklist

"Not only trustworthy and useful, but also polished by real, rare happiness. It is a very good book, indeed. In fact, it's averyveryverygoodbook."—Elizabeth Gilbert, The New York Times Book Review

"Little Heathens made me ache for my own Depression-era Grandma, with her hand-cranked clothes wringer and her North Dakotan speech tut-tutting.... This is a book to awaken your family's own half-remembered stories - or better, to send you back to your elders to scour up your own."—Cleveland Plain Dealer