Beauty at Short: Dave Bancroft, the Most Unlikely Hall of Famer and His Wild Times in Baseball's First Century (Paperback)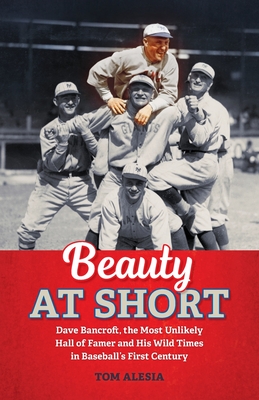 $9.49

Usually arrives at our store within 4-7 days
Description
---
The most unlikely Hall of Famer
Dave Bancroft should not be in the Baseball Hall of Fame. He emerged from his Iowa hometown as an undersized shortstop without batting skills. Signed by one of the 300-plus minor league teams at age 17 in 1909, he lasted only three weeks before being cut, then joined another team and was released again. His rise to become enshrined in Cooperstown as one of baseball's all-time greats was unfathomable.
More importantly, baseball placed Bancroft at the game's best vantage point across nearly one century. This view allowed him to observe the modern evolution of the game through international travel, the fallout of two world wars, racism, women's rights and the Great Depression. He met practically every renowned person connected to pro baseball . . . and countless others with astounding backgrounds and fates. He greeted royalty and presidents, film stars and music sensations, boxing champs and snake oil chumps, needy kids and spoiled moguls.
Along the way, Bancroft:
--Changed how shortstop was played
--Became a groundbreaking switch hitter
--Earned the flattering but bizarre nickname "Beauty"
--Delivered the most precise support of the designated hitter 50 years before it happened
--Played in a 51-minute, 9-inning game
--Managed three women's professional baseball league teams
--Suffered one the sport's most vicious attacks from another player during a game
--Appeared on what may have been baseball's first TV broadcast
--Played every inning in four World Series, including three extraordinary matchups between the New York Giants and New York Yankees in the early 1920s
--Attended several of the earliest night-game experiments
--Holds the longest-standing season record for fielding chances by a shortstop
--Remains the only player to hit six singles in a nine-inning game and score in four straight innings.
Bancroft thrived as a major New York sports hero and languished on dangerous bus rides as manager of the minor league St. Cloud Rox. With his health failing on January 31, 1971, he ate a chicken dinner with his devoted wife, Edna, of 60 years when the phone rang at their modest northern Wisconsin home. Dave listened and spoke softly. "Oh, my God," he told the caller, "that's the nicest thing I've ever heard." He made the Hall of Fame.