Flamin' Hot: The Incredible True Story of One Man's Rise from Janitor to Top Executive (Hardcover)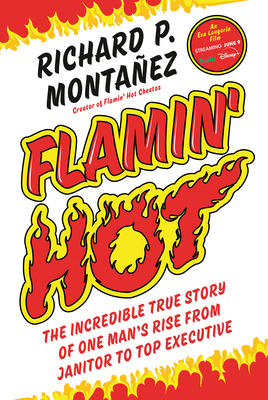 Description
---
Now a Hulu feature film directed by Eva Longoria

Read the story everyone is talking about: how a janitor struggling to put food on the table invented Flamin' Hot Cheetos in a secret test kitchen, breaking barriers and becoming the first Latino frontline worker promoted to executive at Frito-Lay.

Richard Montañez is a man who made a science out of walking through closed doors, and his success story is an empowerment manual for anyone stuck in a dead-end job or facing a system stacked against them. 
 
Having taken a job mopping floors at Frito-Lay's California factory to support his family, Montañez took his future into his own hands and created the world's hottest snack food: Flamin' Hot Cheetos. This bold move not only disrupted the food industry with some much-needed spice, but also shook up a corporate culture in which everyone stayed in their lane. When a top food scientist at Frito-Lay sent out a memo telling sales and marketing to kill the new product before it made it to the store shelves—jealous that someone with no formal education beyond the sixth grade could do his job—Montañez was forced to go rogue once again to save his idea. Through creative thinking, community building, and a few powerful mindset shifts, he outsmarted the naysayers who tried to get in his way.
 
Flamin' Hot proves that you can break out of your career rut and that your present circumstances don't have to dictate your future.
About the Author
---
Richard Montañez is an inventor, entrepreneur, philanthropist and business executive whose inspirational journey has taken him from the barrio to the boardroom. A sought-after motivational speaker, he may be best known as the creator of Flamin' Hot Cheetos—the billion-dollar brand and worldwide phenomenon. Hailed as the Godfather of Hispanic Marketing, Montañez began his tenure as a janitor at Frito-Lay/PepsiCo before rising up through the ranks to head his own division. He serves on several nonprofit boards and is widely recognized as one of the most influential Latinos in corporate America. Richard Montañez and his family live in Southern California.
Praise For…
---
"From the moment I heard Richard Montañez's amazing story, I knew it had to be shared with the world. His journey will inspire you to never give up on your dreams, no matter who you are and no matter where you're from. The invaluable wisdom he shares in this book makes Flamin' Hot a must read for everyone looking to succeed."
—Eva Longoria, actor, producer, and director

"The power of Richard's story is unprecedented. His ability to inspire and engage our employees is remarkable."
—Brian Cornell, CEO of Target

"Richard Montañez is a living legend. His story has inspired me from the moment I heard about it, and I have no doubt the wisdom he shares in Flamin' Hot will inspire millions of readers around the world! Richard Montañez is the ultimate dream catcher and this is a must read for anyone chasing a dream!"
—DeVon Franklin, producer of the Flamin' Hot movie and New York Times bestselling author

"Richard's story is a tour de force."
—Indra Nooyi, chairwoman and former CEO of PepsiCo

"Reading Flamin' Hot is like watching an outstanding movie. You'll laugh, you'll cry, and most importantly you'll follow Richard Montañez down a life-changing path to being unstoppable at whatever you put your mind to."
—Tom Greco, CEO of Advance Auto Parts

"Against all odds, Richard Montañez broke racial, ethnic, and socioeconomic barriers to become one of the most successful Latinos in America—and in the world. His story, told with his characteristic humor and heart, will grip you from start to finish and encourage you to dream bigger dreams than you ever thought possible."
—Rev. Samuel Rodriguez, president of the National Hispanic Christian Leadership Conference and author of From Survive to Thrive

"Richard's explosive rags-to-riches story will not only inspire you, but it will equip you with powerful mind-sets and tools that I haven't seen anywhere else. This story will change how you see the world, helping you become an innovator and unique problem solver. You'll see what others don't see and advance quickly in your career and life."
—Benjamin Hardy, PhD, organizational psychologist and author of Personality Isn't Permanent