The Unbroken Thread: Discovering the Wisdom of Tradition in an Age of Chaos (Hardcover)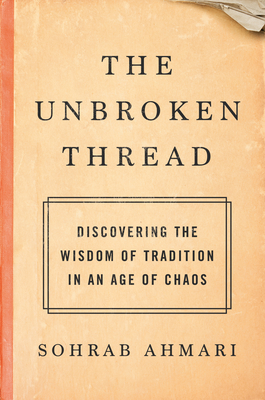 Description
---
We've pursued and achieved the modern dream of defining ourselves—but at what cost? An influential columnist and editor makes a compelling case for seeking the inherited traditions and ideals that give our lives meaning.

"Ahmari's tour de force makes tradition astonishingly vivid and relevant for the here and now."—Rod Dreher, bestselling author of Live Not by Lies and The Benedict Option

As a young father and a self-proclaimed "radically assimilated immigrant," opinion editor Sohrab Ahmari realized that when it comes to shaping his young son's moral fiber, today's America is woefully lacking. For millennia, the world's great ethical and religious traditions have taught that true happiness lies in pursuing virtue and accepting limits. But now, unbound from these stubborn traditions, we are free to choose whichever way of life we think is most optimal—or, more often than not, merely the easiest. All that remains are the fickle desires that a wealthy, technologically advanced society is equipped to fulfill.

The result is a society riven by deep conflict and individual lives that, for all their apparent freedom, are marked by alienation and stark unhappiness.

In response to this crisis, Ahmari offers twelve questions for us to grapple with—twelve timeless, fundamental queries that challenge our modern certainties. Among them: Is God reasonable? What is freedom for? What do we owe our parents, our bodies, one another? Exploring each question through the lives and ideas of great thinkers, from Saint Augustine to Howard Thurman and from Abraham Joshua Heschel to Andrea Dworkin, Ahmari invites us to examine the hidden assumptions that drive our behavior and, in doing so, to live more humanely in a world that has lost its way.
About the Author
---
Sohrab Ahmari is a founder and editor of Compact: A Radical American Journal. Previously, he spent nearly a decade at News Corp., as op-ed editor of the New York Post and as a columnist and editor with the Wall Street Journal opinion pages in New York and London. In addition to those publications, his writing has appeared in The New York Times, The Washington Post, The New Republic, The Spectator, Chronicle of Higher Education, Times Literary Supplement, Commentary, Dissent, and The American Conservative, for which he is a contributing editor.
Praise For…
---
"A formidable combination of storytelling and philosophy that might change your life."—The Times

"[Ahmari] is a master storyteller. . . . Readers of Sohrab Ahmari's new book will be grateful to him for reminding us of how serious the loss [of our traditions] could turn out to be."—First Things

"Ahmari's elegantly written book matters because it seeks to give moral voice to what so far has mainly been a populist scream against the values of elite liberalism."—Bret Stephens, The New York Times

"A vital and provocative read."—The Telegraph

"Even those who reject Ahmari's categories and conclusions will still admire and be edified by the stories he has to tell."—National Review

"A triumph of intellectual hagiography that leads the reader confidently into deep waters."—Commentary

"He frames the questions we all need to ponder and identifies many topics that families and religious leaders need to address—the sooner, the better."—The New Criterion

"Ahmari's latest book presents compelling critiques of the modern understanding of human freedom."—The American Conservative

"Ahmari's prose is always clear, and he manages to articulate sophisticated arguments without ever sounding academic or getting lost in minutia."—Washington Examiner

"Ahmari introduces a generation (and more) to the spiritual patrimony of which they have been robbed."—Spectator World

"The urgent need for this work cannot be doubted."—National Catholic Register

"The quality that makes [Ahmari] a valuable thinker for our current moment is the same one that made him write this book in the way that he did: his willingness to take risks."—City Journal

"Sohrab Ahmari offers more than a vivid and learned defense of traditionalism. With fatherly love, he leads his son—and us—on a fearless consideration of life's big questions."—Timothy Cardinal Dolan, Archbishop of New York

"A serious—and seriously readable—book about the deep questions that our shallow age has foolishly tried to dodge."—Douglas Murray, bestselling author of The Madness of Crowds

"A unique and hopeful book that reminds us that the human person is made for great and beautiful things—far more than the vision of life offered by our society today."—Most Reverend José H. Gomez, Archbishop of Los Angeles