I Love You, Call Me Back: Poems (Paperback)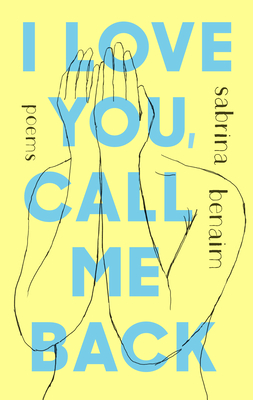 $16.00

Usually arrives at our store within 4-7 days
Description
---
From one of the most-viewed spoken word poets of all time, a collection exploring loneliness, anxiety, and longing—and finding peace, and even joy, in unexpected places

Sabrina Benaim, author of Depression & Other Magic Tricks, has connected deeply with readers and reached millions of viewers through her poetry, breaking down the stigma around mental illness. Now, she dives into challenging and universal territory: grief over a relationship's end, loneliness in a world under lockdown, and the anxiety of caring for a loved one from afar in the wake of a serious diagnosis. 
 
Unfurling over the course of one month in 2020, in seventy-five original poems, I Love You, Call Me Back grapples with mental health struggles and the uncertainty of the moment and beyond. In isolation, Sabrina dares to embrace loneliness in all its permutations: the sorrow of getting your mother's voicemail when you call to say "I love you"; the bitter-sweetness when your dog takes up your ex's side of the bed; the joys of eating ice cream for dinner and singing badly, loudly.
 
In her raw and deeply relatable style, Sabrina reminds us to love our whole selves: you can't have joy without sorrow, and being anxious or depressed doesn't mean you can never be happy. In her words, "Sometimes self-care is just surviving." And that's okay. Sabrina shows us that there's beauty and courage in that, too.
About the Author
---
Sabrina Benaim is a poet, storyteller, and workshop facilitator. She is one of the most-viewed spoken word poets of all time: her videos have reached more than one hundred million people. In 2017, her debut collection, Depression & Other Magic Tricks, was a Goodreads Choice Awards finalist, finishing just behind Rupi Kaur's The Sun and Her Flowers. In 2020, she took part in the Heavy Hitters Festival alongside Ani DiFranco, Amber Tamblyn, and Mary Lambert. She lives in Toronto, Canada.
Praise For…
---
"I Love You, Call Me Back is such a towering testament to the human condition, which rings and echoes louder and longer now, after a year of distance, a year of sometimes isolation. This book reminded me of how to come back into myself, how to come back into a world that will maybe be more gentle than before. But even if it isn't, I'm more ready for it now than I was before finding these poems."
—Hanif Abdurraqib, New York Times bestselling author of Go Ahead in the Rain
 
"Sabrina Benaim is a magician when it comes to writing about heartache in a way that evaporates the heartache of the reader. It's been years since I've read anything that so fully captures the pulse of solitude, and the undying connections that live beneath its ache. I Love You, Call Me Back feels genre-less in the very best of ways, a poetry collection-meets a memoir in verse-meets a love letter to the wrecking ball that shatters all of the walls between us. Time slowed down when I read these words. I'd look up from the page and notice a hundred details about my surroundings that I hadn't noticed before. I am more HERE because of this book, and I can't think of a greater gift to my life than that."
—Andrea Gibson, author of Take Me with You and Lord of the Butterflies

"Poet Sabrina Benaim's second collection is fantastic... Her poems circle loneliness, plants that look like Shrek ears, anxiety, and love."
—Zibby Owens for Katie Couric Media

"[T]his vulnerable collection focuses on the little, specific moments of sadness of missing someone; the isolation so many felt throughout 2020; and a raw, deep reminder that we cannot have joy without sorrow."
—Buzzfeed