The Waste-Free World: How the Circular Economy Will Take Less, Make More, and Save the Planet (Hardcover)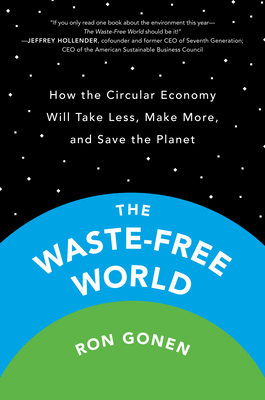 $27.00

Usually arrives at our store within 4-7 days
Description
---
The next revolution in business will provide for a sustainable future, from founder, CEO and circular economy expert Ron Gonen

Our take-make-waste economy has cost consumers and taxpayers billions while cheating us out of a habitable planet. But it doesn't have to be this way. The Waste-Free World makes a persuasive, forward-looking case for a circular economic model, a "closed-loop" system that wastes no natural resources. Entrepreneur, CEO and sustainability expert Ron Gonen argues that circularity is not only crucial for the planet but holds immense business opportunity.

As the founder of an investment firm focused on the circular economy, Gonen reveals brilliant innovations emerging worldwide— "smart" packaging, robotics that optimize recycling, nutrient rich fabrics, technologies that convert food waste into energy for your home, and many more. Drawing on his experience in technology, business, and city government and interviews with leading entrepreneurs and top companies, he introduces a vital and growing movement. 

The Waste-Free World invites us all to take part in a sustainable and prosperous future where companies foster innovation, investors recognize long term value creation, and consumers can align their values with the products they buy.
About the Author
---
Ron Gonen is the Co-Founder and CEO of Closed Loop Partners, an investment firm that maximizes value by aligning capitalism with positive social and environmental impact via investments in material science, advanced recycling technologies, supply chain optimization and sustainable consumer products. Prior to Closed Loop Partners, Ron served as the Deputy Commissioner for Sanitation, Recycling and Sustainability in New York City during the Bloomberg Administration. He was previously the Co-Founder and CEO of RecycleBank. He has served as an Adjunct Professor at Columbia Business School, where he also earned an MBA.

Ron has been recognized with a number of business and environmental awards including recognition as a "Champion of the Earth" by the United Nations Environment Program which is the highest distinction for environmental protection given by the United Nations and recognizes outstanding visionaries and leaders in the fields of policy, science and entrepreneurship, the Medal of Excellence from Columbia University which recognizes alumnus for excellence in scholarship, public service and professional life, named by NRDC/Earth Day NY as the Public Official of the Year in New York City, a Technology Pioneer by the World Economic Forum and the Social Enterprise Center Award for Excellence in Teaching at Columbia Business School.
Praise For…
---
"This clear, practical book will engage anyone who has felt guilty while sorting their rubbish." 
—Nature 

"Fighting climate change and investing in sustainable solutions isn't just good for the planet. It also makes good business sense. Ron Gonen's Waste-Free World makes a strong case for an economy that is more efficient, sustainable, and prosperous – and Ron has been a leader in creating it." 
—Mike Bloomberg, Three Term Mayor of NYC; Entrepreneur and Philanthropist

"Advocating a point without descending into mere rhetoric, the author ventures a well-reasoned case for changing our ways as producers and consumers. Green-minded readers will learn much from Gonen's investigations."
—Kirkus Reviews 

"If you only read one book about the environment this year—The Waste-Free World should be it! No one is more qualified to introduce you to the future of sustainability than Ron Gonen. This exceptional book will show you how to unlock the potential of the circular economy, helping us create a future of well-being and unlimited possibility."
—Jeffrey Hollender, cofounder and former CEO of Seventh Generation; cofounder and CEO of the American Sustainable Business Council

"Ron provides a practical and powerful case for a circular economy, one that mimics nature rather than destroying it. There is no waste in nature, and Ron highlights both the ecological imperative and the enormous business opportunities that a circular economy can provide—from fashion and apparel to food and agriculture to plastics and packaging. A timely call to action for the critical systems change we need in the world."
—Paul Polman, former chairman and CEO of Unilever; cofounder and chair of IMAGINE
 
"No one has more experience or knowledge of the circular economy than Ron Gonen. In The Waste-Free World he shares his wisdom, to the great benefit of all of us and the planet we live on."
—Professor Bruce Usher, Director of the Tamer Center for Social Enterprise at Columbia Business School
 
"Ron Gonen, who was already a trailblazing thought leader and expert in this space, has produced the definitive book on the circular economy and why it is critical for the future of our planet. I'm very humbled to have been interviewed by Ron for the book, which I know will serve as an inspirational beacon of sustainable business practices for many years to come." 
—John Shegerian, cofounder and executive chairman, ERI
 
"If you want to learn from leaders and innovators in the sustainability and circular economy fields on what it takes to transform groundbreaking ideas on reducing waste into thriving industries, The Waste-Free World is a must-read. Ron Gonen went to great lengths to include a diverse set of voices that are passionate about pursuing a circular economy, with opportunities to innovate, to be profitable, and to be good stewards of our environments. This book truly is a meaningful contribution to living in a waste-free world."  
—Ginger Spencer, director, City of Phoenix Public Works Department
 
"A thought-provoking book from one of the world's earliest visionaries in sustainability and recycling. Drawing on two decades of experience as a brilliant entrepreneur, public official, and investor, Ron Gonen delivers a fascinating perspective on the interplay between business and innovation and what he terms the 'circular economy.'"
—Professor Ran Kivetz, Columbia Business School
 
"If you want to inhabit a sustainable planet, Ron Gonen is your guide. Ron launched a successful recycling firm while in business school. He helped New York City learn to compost. And now he's building a whole ecosystem to help advance the circular economy. Wanna do your part? You can start by reading this book." 
—Brett Jenks, CEO of Rare