Do I Know You? (Paperback)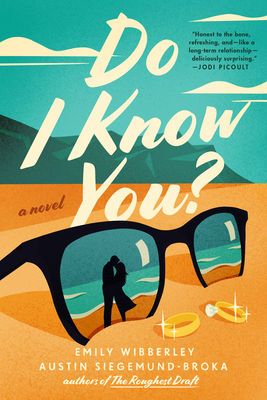 Description
---
One of..
Amazon's Best Romances of January · Buzzfeed's Romance Books To Look Out For In 2023

When a couple starts to feel like they're married to a stranger, a flirtatious game of pretend becomes the spark they need to reignite their relationship.

Eliza and Graham are anticipating an anything-but-sexy, weeklong getaway to celebrate their five-year anniversary. Nestled on the Northern California coastline, the resort prides itself on being a destination for those in love and those looking to find it. For Eliza and Graham, it might as well be a vacation with a roommate.
 
When a well-meaning guest mistakes Eliza and Graham for being single and introduces them at the hotel bar, they don't correct him. Suddenly, they're pretending to be perfect strangers and it's unexpectedly…fun? Eliza and Graham find themselves flirting like it's their first date, and waiting with butterflies in their stomach for the other to text back. 

Everyone at the retreat can sense the electric chemistry between Eliza and Graham's alter egos. But when their scintillating game of roleplaying ends, will they still feel the heat?
About the Author
---
Emily Wibberley and Austin Siegemund-Broka met and fell in love in high school. Austin went on to graduate from Harvard, while Emily graduated from Princeton. Together, they are the authors of several novels about romance for teens and adults. Now married, they live in Los Angeles, where they continue to take daily inspiration from their own love story.
Praise For…
---
"Many authors can write compellingly about falling in love…but it takes a deft hand (or two, in this case) to write compellingly about staying in love.  Luckily, we have Wibbroka, who have crafted a novel about marriage that is honest to the bone, refreshing, and — like a long-term relationship — deliciously surprising."—Jodi Picoult, New York Times bestselling author of Wish You Were Here

"Do I Know You? shows the pure magic of that pivotal moment when two people make the choice to fight for each other. This book is more than a story of a marriage in trouble. It's the story of a spark rekindled and the new flames deliver all the warmth you could want in a novel. Full of humor and heart, Do I Know You? had me in my feelings!"—Denise Williams, author of The Fastest Way to Fall

"Do I Know You? offers the fresh twist on a marriage in crisis that I didn't know I needed! Wibbroka does it again with a magnetically raw and intimate portrayal of where love begins, fades, and begins again. Flirty, sweeping, and hopeful, readers will clutch their chests and root for Eliza and Graham until the very last page."—Amy Lea, author of Set on You

"Reading Wibberley and Siegemund-Broka's prose is like sliding into the crisp sheets of a luxury hotel bed. Do I Know You? is such an inventive take on a 'marriage in trouble' story, showing the fragility that can sometimes hide behind familiarity. By the end, I cared about the fate of Eliza and Graham's relationship like I knew them personally."—Alicia Thompson, national bestselling author of Love in the Time of Serial Killers

"Readers won't be able to turn the pages fast enough."—Publishers Weekly