What Just Happened: Notes on a Long Year (Hardcover)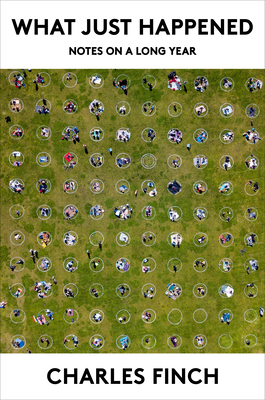 $28.00
Email or call for price
Description
---
A BOSTON GLOBE BEST BOOK OF THE YEAR • With unwavering humanity and light-footed humor, this intimate account of the interminable year of 2020 offers commentary on the COVID-19 pandemic, protests for racial justice, the U.S. presidential election, and more, all with a miraculous dose of groundedness in head-spinning times.

"This book is so funny and so true. Charles Finch unpacks a year of plague, fear, shameless venality, and dizzying stupidity with an irrepressible wit and surgically precise cultural observations. I didn't know how badly I needed exactly this. Maybe you do too?" —Joe Hill, author of Heart-Shaped Box
 
In March 2020, at the request of the Los Angeles Times, Charles Finch became a reluctant diarist: As California sheltered in place, he began to write daily notes about the odd ambient changes in his own life and in the lives around him. The result is What Just Happened.
 
In a warm, candid, welcoming voice, and in the tradition of Woolf and Orwell, Finch brings us into his own world: taking long evening walks near his home in L.A., listening to music, and keeping virtual connections with friends across the country as they each experience the crisis. And drawing on his remarkable acuity as a cultural critic, he chronicles one endless year with delightful commentary on current events, and the things that distract him from current events: Murakami's novels, reality television, the Beatles. 
 
What Just Happened is a work of empathy and insight, at once of-the-moment and timeless—a gift from one of our culture's most original thinkers.
About the Author
---
CHARLES FINCH is a book critic and essayist as well as the author of fifteen novels. He is a regular contributor to The New York Times and the Chicago Tribune, and the recipient of the 2017 Nona Balakian Citation for Excellence in Reviewing from the National Book Critics Circle. He lives in Los Angeles.
Praise For…
---
ONE OF THE BOSTON GLOBE'S BEST BOOKS OF THE YEAR

"Beautiful, bittersweet . . . he takes profound, frank, luxurious baths in the emotions of distaste and despair, which dominated during the pandemic. His memoir incisively suggests they reveal the depth of our love, actually, for other aspects of our world that we didn't want to lose." —Eve Fairbanks, The New York Times

"Articulate and engaging . . . What Just Happened: Notes on a Long Year is the journal you meant to write but were too busy dashing through self-checkout lanes or curled in the fetal position in front of Netflix to get anything down. Thankfully, Finch did. His keen-eyed account is vivid and witty. It will make you laugh despite the horrors . . . I am not enjoying the pandemic, but I did enjoy Finch's articulate take on life in the midst of it. Missing his friends and mourning the world as he knew it, Finch's account has a unifying effect in the same way that good literature affirms humanity by capturing a moment in time." —Christine Brunkhorst, Minneapolis Star-Tribune

"Warmly conversational . . . [Finch's] sketches skillfully evoke their moment's spiky, overstimulated atmosphere — especially the new, frightening friction of such everyday routines as grocery shopping or picking up a prescription." —Sophia Nguyen, The Washington Post

"Finch's precise and stunning day-by-day chronicle of the COVID-19 pandemic brings back all the shock and bewilderment, fear and outrage, grim humor and stark revelations . . . [Finch] is nimbly incisive, scathing, and hilarious; his political analysis keen and prescient . . . A forthright, sharp-witted, caring, and essential record of living through a tragic, transformative year."
— Donna Seaman, Booklist

"When it became clear in March 2020 that the coronavirus was more than an annoying temporary disruption, some writers took to keeping COVID diaries. We're fortunate that one as gifted and insightful as Los Angeles-based novelist and critic Charles Finch chose to preserve his recollections in the eloquent, fierce What Just Happened: Notes on a Long Year . . . Finch is a keen political observer whose takedowns of the Trump administration's almost willfully incompetent leadership are both savage and, at times, savagely funny." — Harvey Freedenberg, BookPage [Starred Review]

"[A] perceptive chronicle of [Finch's] experience of the Covid-19 pandemic . . . Readers will feel an intimate familiarity with the bewilderment that imbues his early observations, as he laments not being able to make certain foods because of scarcity issues  . . . Even at its darkest, this serves as a moving testament to the resilience of humanity." — Publishers Weekly
 
"A spirited testimony to hard times . . .  related with appealing candor . . . The narrative is freshest when the author hews closest to his own life: the childhood illness that left him immunocompromised; the consolations of smoking weed, listening to music, and especially his tender remembrance of his grandmother, the minimalist artist Anne Truitt. His radiant portrait of Truitt shines as a transcendent ending to his chronicle of a dark year."
— Kirkus Reviews

"Charles Finch has one of my favorite brains on the planet, and if time travel were possible, this is the book I'd hand myself in March of 2020. Not only as a crystal ball, but as a path through the inferno. What Just Happened is a reckoning, a processing, a release—an extraordinary record of extraordinary times."
—Rebecca Makkai, author of The Great Believers

"This book is so funny and so true. Charles Finch unpacks a year of plague, fear, shameless venality, and dizzying stupidity with an irrepressible wit and surgically precise cultural observations. I didn't know how badly I needed exactly this. Maybe you do too?"
—Joe Hill, author of Heart-Shaped Box

"I'm glad someone wrote it all down. I'm glad that someone was as acute an observer as Charles Finch. What Just Happened is a deeply thoughtful narrative of the year we'll too easily forget. The recounting works so vividly—furious, at times poetic, often darkly funny, and surprisingly hopeful. A remarkable and effortlessly woven blend of current events, history and cultural criticism."
—Lauren Hough, author of Leaving Isn't the Hardest Thing

"When I began Charles Finch's diary of a pandemic year, I was skeptical about the prospect of reliving a terrible period. But Finch is so gifted as a stylist, thinker and observer that he made the familiar not only absorbing but also revelatory. His thoughts about his own life and the world at large are intelligent and original as well as deeply moral, and they unfurl in taut, witty sentences that both surprise and delight. Quietly profound, the book is also a true pleasure to read."
—Adelle Waldman, author of The Love Affairs of Nathaniel P.