The King Penguin (Hardcover)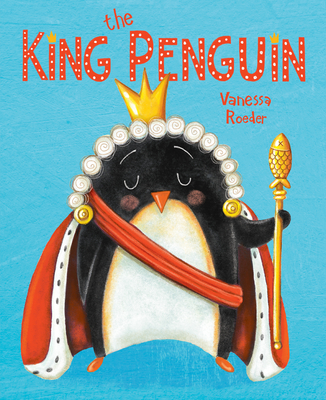 Description
---
King Penguin is off to find subjects who will listen to him—as long as they don't eat him first, in this cheeky tale by beloved author-illustrator Vanessa Roeder

Percival the King Penguin doesn't think he's asking for too much when he makes all the rules—he is a king after all. But he's tired of the other penguins protesting, so he's off to find subjects who are more obedient and supportive.

But it won't be the seals.

Or the whales.

And definitely not the rude sardines.

As Percival gets chased away by every new group of potential subjects, he'll have to learn how to put his best flipper forward and live in a community, not a kingdom.
About the Author
---
Vanessa Roeder is an author and illustrator whose work has been featured in Highlights magazine and on Apartment Therapy. She lives in Austin, Texas, with her husband and three kids.
Praise For…
---
NPR Best Book of the Year Selection

"Humorous alliterative asides, quick quips, and heavily anthropomorphized depictions of adorably squat penguins lift the mood of this whimsical tale that also has a sound message about the dangers of wielding power. A positively plucky look at government from a penguin's perspective." —Kirkus

"This adorable and hilarious picture book uses bright watercolors and large, easy-to-read black text to tell the tale. Alliteration abounds in the form of hard P's popping up all through the pages. Educators or caregivers reading to children will be laughing along with the silly jokes sprinkled into the illustrations between the text, and kids will enjoy the scrapes Percival finds himself in. A joyful story hour read . . . Percival and his pals will teach kiddos precisely how to rule." —School Library Journal

"The playful text matches penguin names with individual features, from emperor penguin's laurels to the chinstrappenguin's cute chinstrap. Acrylic paint and colored pencils capture the icy blue of the penguins' setting while keeping backgrounds simple, allowing the focus to be the goofy natures of the penguins and their many silly, often alliterative comments via speech bubble. This will make a laugh-out-loud read." —BCCB

"In this comedic picture book, Roeder imagines a king penguin lording over penguin peers, based strictly on his royal appellation. [A] goofy acrylic and colored pencil romp." —Publishers Weekly