Booth (Hardcover)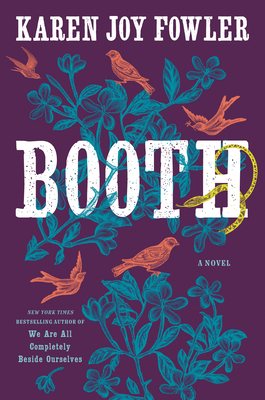 $28.00

Usually arrives at our store within 4-7 days
March 2022 Indie Next List
---
"The Booth family dominated 19th century American stages, but are known for the despicable actions of John Wilkes. Their saga, told by Karen Joy Fowler, mirrors the disintegration of their society and offers a cautionary tale for ours."
— Bill Cusumano , Square Books, Oxford, MS
Description
---
Best Book of the Year
Real Simple • AARP • USA Today • NPR • Virginia Living

Longlisted for the 2022 Booker Prize

From the Man Booker finalist and bestselling author of We Are All Completely Beside Ourselves comes an epic and intimate novel about the family behind one of the most infamous figures in American history: John Wilkes Booth.

In 1822, a secret family moves into a secret cabin some thirty miles northeast of Baltimore, to farm, to hide, and to bear ten children over the course of the next sixteen years. Junius Booth—breadwinner, celebrated Shakespearean actor, and master of the house in more ways than one—is at once a mesmerizing talent and a man of terrifying instability. One by one the children arrive, as year by year, the country draws frighteningly closer to the boiling point of secession and civil war.

As the tenor of the world shifts, the Booths emerge from their hidden lives to cement their place as one of the country's leading theatrical families. But behind the curtains of the many stages they have graced, multiple scandals, family triumphs, and criminal disasters begin to take their toll, and the solemn siblings of John Wilkes Booth are left to reckon with the truth behind the destructively specious promise of an early prophecy.

Booth is a startling portrait of a country in the throes of change and a vivid exploration of the ties that make, and break, a family.
About the Author
---
Karen Joy Fowler is the New York Times bestselling author of six novels, including The Jane Austen Book Club and We Are All Completely Beside Ourselves, which was the winner of the PEN/Faulkner Award and shortlisted for the Man Booker Prize. She lives in Santa Cruz, California.

Praise For…
---
Most Anticipated Books 2022
Kirkus Reviews • Entertainment Weekly • Virginia Living • Veranda • The Millions • Medium • CNN

One of New York Post's Best Books of the Month

"Gripping novel….Booth is historical fiction, but it's impossible to ignore the resonance with present-day America." —NPR

"[Fowler] demonstrates how family tragedies ripple out from the source, causing trauma on an exponential scale. It's hard to read her story of the Booth family and not think of those whose lives have been upended by senseless acts of personal or political violence….To know Booth, to fully reckon with who he was and to grapple with why he did what he did, is to have a window on the modern United States." —Los Angeles Review of Books

"Fowler's riveting saga explores these strains of familial devotion and sorrow connecting the colorful Booth brothers and sisters." –Washington Post

"An ambitious novel . . . Slow-burning and rich, it illuminates America's core contradictions." —People Magazine

"Vignetted at the edges, full of portents, omens and mysterious reversals of fate . . . [Fowler's] sentences often sing." –The New York Times Book Review
 
"Fate, history, and chance collide in Karen Joy Fowler's riveting historical novel. . . . What elevates Booth is the granular texture of what's beneath the bald facts: the how and the myriad whats and whys, the truths. And there is also Fowler's trademark dark humor. . . . A massive achievement. In it, Fowler weaves history, family culture, and human cruelties into an insightful reckoning of a past that seems too much a prologue to our American present." —Boston Globe

"Booth doesn't hold anyone in judgment; like all the best literature, it seeks to better understand the human heart in all its flawed complexity. It's a haunting book, not just for all its literal ghosts, but for its suggestion that those ghosts still have not been exorcised from this country." —USA Today

"Masterful . . . A dazzling blend of fact and fiction with piercing echoes to today . . . Fowler's excavation of this material is astonishing in its breadth and specificity, treating events of historical record with the same detail and care as secret bedtime talks and plays staged in treetops." —San Francisco Chronicle

"The historical context [Fowler] offers is of a pre–Civil War America of deep moral divides, political differences tearing close families apart, populism and fanaticism run amok. The similarities to today are riveting and chilling." —Kirkus Reviews (starred review)

"Razor-sharp…Fowler sets the stage in remarkable prose….The nuanced plot is both historically rigorous and richly imagined. This is a winner." —Publishers Weekly (starred review)

"Like the very best historical novels, Booth is a literary feast, offering much more than a riveting story and richly drawn characters. It offers a wealth of commentary about not only our past but also where we are today, and where we may be headed." —BookPage (starred review)

"It's been nine years since we had a new Karen Joy Fowler novel. . . . It's definitely one we deserve." —Entertainment Weekly

"She weaves an intimate, engaging portrait of a tribe whose aims and alliances were always shifting, buffeted by tragedy (several beloved siblings died young) and fickle fortunes." —Entertainment Weekly

"Fowler presents an omniscient, bird's-eye view of these lives, along with a nod to what could be apocryphal. The result is an engrossing portrayal of a nineteenth-century family living through the U.S.' most turbulent era." —Booklist

"One could write an old-fashioned horror novel, but an even better way to terrify modern readers is to show them the parallels between a gut-wrenching period of American history and today, as Karen Joy Fowler does in Booth. . . . That's what makes Booth so unsettling and thrilling: the many parallels between the Booth family's era and the present day." —Shelf Awareness

"Fowler's gripping historical novel takes us behind closed curtains to reveal their scandals and disasters in a book that shows us how a family can be torn apart and stitched back together." —Virginia Living

"An epic story that captures the unstable passions that disrupt the Booth family and the disagreements that set the nation on fire." –CBS Sunday Morning

"Solid research mixed with empathetic imagination enriches Booth. . . . An engrossing tale . . . Fowler's narrative is packed with drama." —Christian Science Monitor

"Booth is a sad, astonishing, and beautifully written look at a complicated, secretive family that failed to save one of their own from himself. Highly recommended." —Historical Novels Review

"An epic novel, it's both the story of an eccentric household and historical saga zooming in on the tumultuous lives of each family member as the country catapults into civil war." —Real Simple

"An ambitious and consequential saga about a family with a monster in their midst." —Philadelphia Inquirer

"An enjoyable novel that offers historical insights into life in the antebellum border states and also brings to life sibling interactions of both love and rivalry during a very difficult period of American history." –Bowling Green Daily News

"Booth is a triumph! No one writes like Karen Joy Fowler, and in this gripping family saga, she has taken a piece of American history we thought we knew and told it slant. With wit, heart, and revelatory insight,  she teases ghosts from their shadows, transforming the way we see the past, shedding new light on our troubled present." —Ruth Ozeki, author of A Tale for the Time Being

"Like Tolstoy before her, and Natalia Ginzburg, Karen Joy Fowler understands that the only way to write about history is as clattery, complex dramas of ordinary people and their families—they become the stuff of history later. Booth is a subtly devastating meditation. . . . Its world—dense, granular, intricate—is created with immense care and precision, and rendered in prose of limpid, lyrical beauty. This is her finest, most beautiful novel to date." —Neel Mukherjee, author of A State of Freedom

"What an extraordinary story. What a family. Gripping, clever, and the central issue is alive and kicking today." —Sir Tom Courtenay