Actions Speak Louder: A Step-by-Step Guide to Becoming an Inclusive Workplace (Hardcover)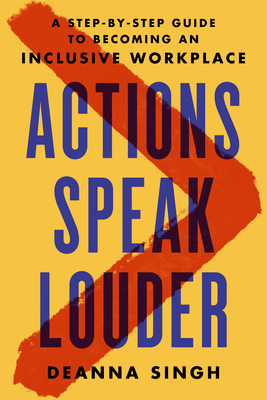 Description
---
"A timely, practical resource on creating teams and organizations where everyone has the opportunity to succeed."
--Adam Grant, #1 New York Times bestselling author of Think Again and host of the podcast WorkLife
 
A step-by-step guide for managers, teams, and DEI leaders looking to create impactful, lasting change in their organization, from recruitment to retention, and beyond.

Are you tired of hollow promises about diversity, equity, and inclusion in your organization? Do you want to take steps towards real change – beyond issuing mission statements, signing checks, and holding listening sessions – but don't know where to start? This book is your answer. Designed for teams to read together, Actions Speak Louder offers a comprehensive blueprint for leaders and teams who are ready to get out of their own way, look at their surroundings with new eyes, and turn their energy into a concrete plan.
 
Renowned DEI consultant Deanna Singh has led diversity trainings for a wide range of organizations, from non-profits to Fortune 500 companies. Using narratives, case studies, and the latest DEI research, as well as interactive exercises, Singh will teach you how to:
 
  •  Write inclusive job advertisements because "minorities just don't apply here" isn't an excuse – you're just not reaching them
  •  Design an interview process that reduces status quo bias and challenges hiring decisions that are simply "no brainers"
  •  Create a retention plan that considers and prioritizes the needs of underrepresented employees – if you haven't intentionally designed one to be inclusive, you've unintentionally reinforced one that is exclusive.
  •  Lead inclusive meetings – the bedrock of company culture – by practicing constructive dissent and elevating underrepresented perspectives
 
As Singh has seen time and time again, any organization can meaningfully change – you just need the right tools.
About the Author
---
Deanna Singh is the Founder and Chief Change Agent of Flying Elephant, an umbrella organization for four social ventures. Through their work in the spheres of DEI, healthcare, children's literature, and leadership, these four companies aim to shift power to marginalized communities. Deanna is an accomplished author, educator, business leader, and social justice champion who speaks to over 50,000 people annually, giving audiences the tools and courage to imagine, activate, and impact the world as agents of change. She has been recognized by the Milwaukee Business Journal as one of the community's most influential 40 Under 40 Leaders, the State of Wisconsin as a "Women Who Inspires," and by Forbes as an "African American Woman Everyone Should Know." She recently published a book with American Girl, entitled, A Smart Girl's Guide: Race & Inclusion.
Praise For…
---
Praise for Actions Speak Louder

"A timely, practical resource on creating teams and organizations where everyone has the opportunity to succeed."
--Adam Grant, #1 New York Times bestselling author of Think Again and host of the podcast WorkLife

"Singh's advice is concrete and actionable, and in the end, readers will feel like they've attended an especially informative and effective workshop. In a crowded field, this stands out."
--Publishers Weekly

"A valuable and accessible addition to the growing body of work providing concrete guidance in recognizing and responding to the need for intentional, ongoing efforts to improve workplace Diversity, Equity, and Inclusion (DEI) culture." 
--Booklist

"Practical, powerful and just in time, this is a book that every leader needs to read (and put to work)."
--Seth Godin, author of The Practice

"A masterclass in how to successfully design and execute a DEI strategy."
--Lori Costew, Chief Diversity Officer, Ford Motor Compan

"Actions Speak Louder is THE diversity and inclusion book we all need right now. With a masterful tip of the hat to our critical past, combined with a deep understanding of our current state, it is the step-by-step guide that DEI practitioners have been waiting to share with their leadership teams."
--Dr. Johné Battle, Vice President, Diversity & Inclusion, Dollar General Corporation

"Vital and extraordinarily timely, this book is a must-have guide to the real work of creating a safe, inclusive workplace for everyone on your team."
--Michael Barber, Retired Chief Diversity Officer, General Electric

"There is so much joy and hopefulness in this book – you'll come away knowing that change is possible, no matter how long your company has 'always done things this way.' "
--Laura Huang, author of Edge

"Crafted with leaders in mind, this book equips readers with vital frameworks and tools to change their mindsets and their cultures. Whether you're at the start of your equity journey or deep in the trenches of an organizational transformation, you'll find yourself returning to this book again and again."
--Y-Vonne Hutchinson, author of How to Talk to Your Boss About Race and CEO of ReadySet

"Packed with new, fresh insights, Singh goes beyond philosophical principles and details exactly how to shift a culture. DEI experts and novices alike can learn from this book."
--Lydia Smith, Chief Diversity Officer, Victoria's Secret & Co.

"If you've got privilege, you need this book. An energizing game-changer, Singh shows you how to put your privilege to good use by making your workplace one where diverse voices are invited, heard, and heeded."
--Therese Huston, Ph.D., author of Let's Talk and How Women Decide

"A much-needed resource to help guide leaders to accelerate action and accountability."
--Lesley Slaton Brown, VP and Chief Diversity Officer, HP Inc.

"A refreshing roadmap for building a more inclusive workplace -- one that does not pretend that our social identities do not exist, but that insists that we acknowledge who we are and where we came from as a powerful tool in creating a more equitable environment."
--Ximena Vengoechea, author of Listen Like You Mean It