Billion Dollar Girl (Hardcover)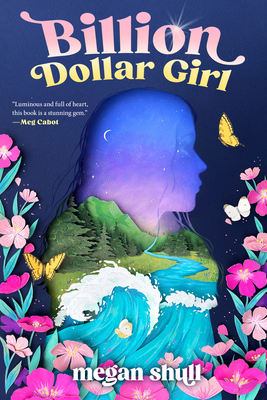 Description
---
"LUMINOUS and FULL OF HEART, this book is a STUNNING GEM."
—Meg Cabot, #1 New York Times best-selling author of the Princess Diaries and Airhead series

From the bestselling author behind Disney's The Swap comes a profoundly moving novel about one girl's unforgettable journey to discover that life's true jackpot might not be what it seems. Full of joy and moxie, Billion Dollar Girl grabs hold and won't let go.

River Ryland is the girl everyone wants to be around. But this brave 13-year-old has a secret that's getting harder and harder to hide: she lives mostly alone in a ramshackle, single-wide trailer with a mom who drops in and out of her life.

After a visit from Social Services goes horribly wrong, longing for security, River sets off on the run. Soon, a case of mistaken identity gives River a chance to live a life that she had never even dreamed. But, when her newfound safety is shattered, River discovers, against all odds—one in 307 million, to be exact—that life's true jackpot isn't anything that it seems.

A simultaneously heart-wrenching and exhilarating exploration of what we value, suspenseful and wise, Billion Dollar Girl is a deeply-felt reminder that we are inexplicably intertwined; a hopeful story of our times.
About the Author
---
A bighearted voice in kids' fiction and film, MEGAN SHULL is the bestselling author of many stand-up-and-cheer stories for young readers and teens. Her books have been adapted for film, including Disney's smash hit, The Swap. Most recently, Paramount won the rights to her novel Bounce. Born and raised in Ithaca, New York, Megan holds a doctoral degree from Cornell University, where her work focused on helping kids build resilience. She lives in her hometown, near a lake carved by glaciers and ringed by hills and a trillion waterfalls.

Follow along @meganshull on Instagram, Twitter, and Goodreads, and visit: heymegan.com.
Praise For…
---
"LUMINOUS and FULL OF HEART, this book is a STUNNING GEM. I loved it. We need more entertaining, uplifting books like this!" —Meg Cabot, #1 New York Times best-selling author of the Princess Diaries and Airhead series

"A BRILLIANT NORTH STAR about the power of belonging—Billion Dollar Girl is purely IRRESISTIBLE. It is impossible to capture how much I loved it. I swam in the joy of this book!"
—Dr. Tina Payne Bryson, New York Times best-selling author of The Whole-Brain Child and No-Drama Discipline

"Billion Dollar HEART! A tale of wonder, courage, and the healing gifts of connection and nature. This book is a gorgeous, whip-smart balm for the soul." —Josann McGibbon, co-creator of Disney's Descendants trilogy
 
"ENCHANTING. SOULFUL. MAGICAL. There is an innocence permeating the pages of River's journey that brought me to tears." —Kiana Madeira, star of Netflix's Fear Street and Trinkets
 
"A LUSH and COURAGEOUS journey into the heart of what matters most. River Ryland is a heroine to cheer for!" —Alex Pritz, director of The Territory, National Geographic Documentary Films

"RARE and MESMERIZING. Hand this beautiful book to someone you love and BREATHE IN BRAVE with River Ryland." —Maureen Sherry, best-selling author of Opening Belle and Walls Within Walls
 
"A TIMELY, PROFOUND and INSPIRING story that breathes life into so many yearnings our hearts seek to know." —Emilee Gilpin, award-winning journalist, First Nations Forward