Windows Server 2003 Network Administration: Building and Maintaining Problem-Free Windows Networks (Paperback)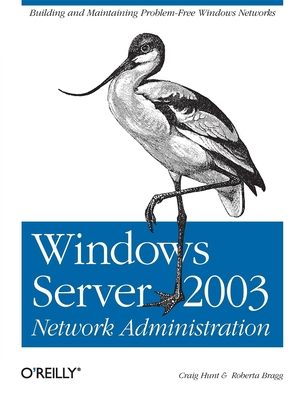 $49.95

Usually arrives at our store within 4-7 days
Description
---
This book is the Windows Server version of the classic TCP/IP Network Administration. Like the book that inspired it, Windows Server 2003 Network Administration provides an overview of the essential TCP/IP protocols, and explains how to properly manage and configure the services based on these protocols. Any skilled network administrator knows that understanding how things work is as important as knowing how things are done. This book is the essential guide to both, containing everything a network administrator needs to exchange information via the Internet, and to build effective reliable networks.
This must-read guide is divided into three distinct sections: fundamental concepts, tutorial, and reference. The first three chapters are a basic discussion of the network protocols and services. This discussion provides the fundamental concepts necessary to understand the rest of the book. The remaining chapters provide a how-to tutorial for planning, installing and configuring various important network services. The book concludes with three appendixes that are technical references for various configuration options. Content specifics include how to:
Install, configure, and manage a Microsoft DNS and Windows DHCP server
Control remote communications with Microsoft RRAS software
Protect hosts with Internet Connection Firewalls
Configure Internet and Intranet Web services with IIS
Design proper security into your network
Troubleshoot the network when problems develop
After you've turned the final page of Windows Server 2003 Network Administration, you'll not only understand how to network, but also why it needs to be done.
About the Author
---
Craig Hunt has almost 30 years of computing experience--first as a programmer, then a systems programmer, network architect, manager of network operations, and finally head of network research. Craig is now an independent computer consultant. He is currently working on the Microsoft antitrust settlement, with a particular focus on the Microsoft Communications Protocol Program (MCPP). Craig is the author of nine computer books, including TCP/IP Network Administration, and is the editor of five others. Find out more about Craig's professional activities at his web site www.wrotethebook.com.Roberta Bragg's computing life started in 1975. She has been employed as an operator, programmer, systems administrator, network administrator, security consultant, trainer, teacher, editor and author. Her many publications include five programming and administration instruction curriculum guides, six certification guides, four technical reference books, hundreds of freelance IT oriented articles and seven years as a columnist on Windows security. Currently she consults and writes on information security.Roberta lives in downtown Kansas City, Missouri, 12 blocks from the Kansas City Arts Incubator where she produces and sells glass fused and slumped objects, and stained glass mosaics.