Judy Moody, M.D.: The Doctor Is In! (Prebound)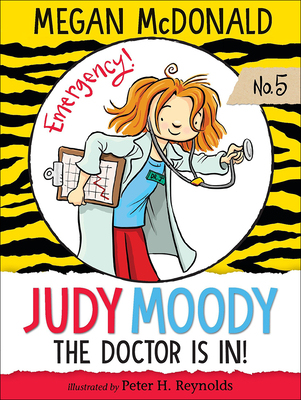 This item is not available.
Description
---
Judy gets a taste of her own medicine in a hilarious new episode sure to tickle your humerus (aka funny bone) and put you in a very Judy Moody mood She took her own temperature. With the fancy thermometer that beeped. It was not normal. It was not 98.6. Judy's temperature was 188.8 Judy's temperature was 00.0 Judy's temperature was beep-beep-beep-beep-beep. She, Judy Moody, had the temperature of an outer-space alien Judy Moody has a mood for every occasion, and now, she, Judy Moody, is in a medical mood It's no secret that Judy wants to be like Elizabeth Blackwell, first woman doctor, when she grows up. So when Class 3T starts to study the Amazing Human Body, Judy can hardly wait to begin her better-than-best-ever third-grade projects: show-and-tell with something way rarer than a scab, a real-live ooey-gooey operation, and a cloning experiment that may create double trouble for Judy and her friends. RARE.
About the Author
---
Megan McDonald is the author of the award-winning JUDY MOODY, JUDY MOODY GETS FAMOUS!, JUDY MOODY SAVES THE WORLD!, and JUDY MOODY PREDICTS THE FUTURE. Of the inspiration for this book, she says, "Just before writing JUDY MOODY, M.D., I met a class of third graders trying to clone their class pet -- a guinea pig. Another class had a skeleton named George. Then imagine my surprise when I learned of medical school students who practice their stitches and perform 'operations' on zucchinis! I just knew Judy Moody had to be in a 'Judy Moody, First Girl Doctor' mood." Peter H. Reynolds is the illustrator of all five Judy Moody books. Of this book, he says, "I realized that I have come to know Judy and her family and friends so well that the art poured from my pencil. JUDY MOODY, M.D. resonated with me deeply. Judy's vision of using her talents to heal others sends a valuable message. I am always excited to see people dreaming big about their futures -- especially third graders!"