Mom or Dad's House?: A Workbook to Help Kids Cope with Divorce (Helping Kids Heal #3) (Paperback)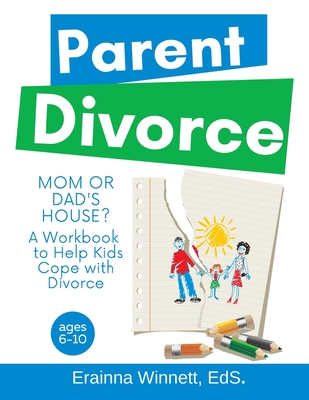 $11.97
Email or call for price
Other Books in Series
This is book number 3 in the Helping Kids Heal series.
Description
---
Has your child been struggling with their emotions because of a recent or pending divorce? Have you found that your child has begun expressing more anger than usual because you and your spouse have decided to separate?
Divorce can be confusing for kids when their lives are suddenly disrupted by splitting their time between multiple homes. This can be an emotional time for children. This activity book was created to help kids whose parents are going through a divorce. Using
Mom or Dad's House: A Divorce Workbook for Kids,
parents can work directly with their children (ages 6 to 10) as they process their feelings of anger, fear, disappointment, and guilt and learn to express them appropriately.
With
engaging drawings to capture children's interest
activities designed to help them foster healthy coping strategies to work through their overwhelming feelings of powerlessness
exercises to help them find appropriate ways to deal with their feelings and develop a positive self-image as they adjust to their new family situation
visual journaling and art therapy that help children focus on identifying the many feelings they may be experiencing and ways they can feel safe during a time of great change
daily reflection journal to implement what they've learned
By spending just ten minutes a day
engaged with the more than thirty-five activities in this book, your child will learn to articulate their feelings and identify the best ways to express themselves. Get started today and help your see child cope with their new reality, while feeling loved and supported by both their parents.
What parents are saying
"After my husband and I split up, our son, who is ten years old, began screaming at his four-year-old sister. I talked with my own counselor who recommended this workbook. We've been working with it for about two months now and I've noticed that even though he still gets really mad, he's pausing for a moment before hurting his sister's feelings. I can almost see the wheels turning in his head. This book has helped us all pay attention to how we treat each other when we're feeling bad."
"I thought my ex-wife and I been doing a good job of telling our kids that they are not to blame for our divorce. But when their grades started going down, we realized we needed to do more. I found this activity book online and the kids work in it with me and their mom, and we're all talking about changes in a positive way now."
"My daughter and her husband are going through a difficult divorce and I've been keeping my grandkids more after school this spring. When they started being so quiet and refusing to talk about the divorce, I asked our neighbor who is a school counselor for help and she gave me Mom or Dad's House. Not only are the kids starting to talk more about how they feel, we have so much fun together after school working with this book. Thank you "
About the Author
---
Child education and counseling expert Erainna Winnett brings more than 20 years of experience in teaching, counseling, and raising children to the hot-button issues every child faces today. Helping Kids Heal is a series of activity books written with healing in mind. Each book addresses real world problems children face on a daily basis. Through therapeutic art and writing exercises, kids can express their feelings and learn how to deal with those feelings in appropriate ways. Designed for children ages 6-12, these activity books are meant to be used as a counseling tool to foster a positive self-image and healthy coping strategies and to provide parents, educators, and counselors with tools to assist children as they process and work through some of today's toughest issues. Erainna was born and raised in central Louisiana. The oldest of five children she always yearned to be a teacher and forced her siblings to play school year round. Naturally, she graduated with a teaching degree in 1995 and earned her Master's degree in 2000. Five years later she earned her Education Specialist degree in early childhood education. After fifteen years in the classroom, she moved to the role of school counselor and has never been happier. While serving as school counselor at an elementary school in northeast Texas, she frequently uses children's books as therapy to help her students heal, learn and grow. Ideas for her books come from the students she works with on a daily basis. Her goal, as an author, is to touch the hearts of children, one story at a time. Erainna has written over thirty books designed to guide parents, teachers, and counselors as they help children to become their best self. Erainna lives on a 300 acre cattle ranch near the Red River with her husband, two daughters, three dogs, two horses, and one ill-tempered cat.