Talala: The curious leopard cub who joined a lion pride (True Stories of Animal Heroes) (Hardcover)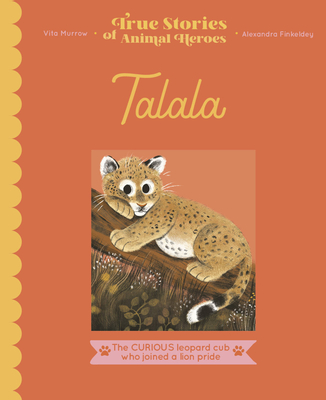 Description
---
In this new series, based on real-life animal tales, discover that not all heroes wear capes – some have four legs, a wet nose, and a brave heart. Big or small, fall in love with animal friends who have lived truly wild lives.

Read about Talala, the curious leopard cub, who lived with lions. When Talala found herself the sole survivor of her pack in Gir National Park, she began a quest to find a new family.

Talala tried the owl family, but she didn't understand their language. Then the antelope family, who ate blossoms – yuck. And then the alligator hatchlings, who didn't play the same games as Talala at all. Finally, she spied the lion family... Would Talala be the heart of their pride? Would she find her fit?

This heartwarming story has a fact section at the back, so you can learn more about big cats and how you can help them. Adorable illustrations from Alexandra Finkeldey will make you want to hug the page.

Other titles in the series are Onyx, based on the reintroduction of wolves of Yellowstone Park. Fluffles, the koala who held strong through a bushfire. And Sterling, the moose who showed that love has no borders. 

Immerse yourself and your children in this touching tale of family, acceptance and finding your own place, which we can all learn from.
About the Author
---
Vita Murrow is an educator, an artist, a writer, and a mom. Vita has a quirky sense of humor and an eye for the weird. When she was in 8th grade she was rejected from a special writers' retreat for kids. But that didn't stop her from pursuing her passion. Since then, Vita has been a teacher, a producer, a film maker, a program director, and even a puppeteer. She currently works as a children's author reinventing old stories for a new generation and crafting wordless pictures books together with her husband Ethan Murrow. Their book The Whale was nominated for a CILIP Carnegie and Kate Greenaway Medal. She is also the author of two volumes of fairytales retold for a new generation: Power to the Princess and High-Five to the Hero. Vita loves working with other artists and writers and is always looking to share a chocolate chip cookie with someone.
Alexandra Finkeldey is an illustrator based in Ottawa, Canada. She uses both traditional and digital mediums to capture her favorite subjects, which typically include animals, people, plants, and food. She has long been inspired by nature, animation, travel, and video games, which has translated into vibrant and often unreal color palettes as they appear in her work.