There are no products in your shopping cart.
You Had Better Make Some Noise: Words to Change the World (Paperback)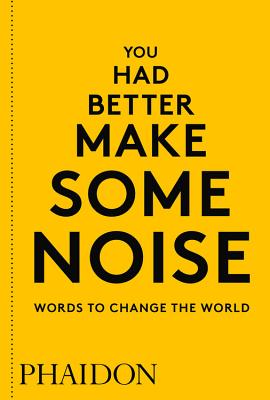 Description
---
Magnífica recopilación de citas de los visionarios que han sido motor de cambio en el mundo.
Más te vale hacer ruido compila el mundo de los activistas sociales, los revolucionarios, artistas, filósofos, escritores, músicos, o políticos. Individuos que han luchado y luchan por la justicia incitándonos a hacer lo mismo; Octavio Paz, Ai Weiwei, Margaret Mead, Harvey Milk, Pablo Neruda, Susan Sontag, Bertold Bretch, Diego Rivera, o Bertrand Rusell son algunas de las voces inspiradoras recopiladas.
"Cuando la historia de nuestro tiempo sea escrita, ?seremos recordados como la generación que dio la espalda en un momento de crisis global o ser´ escrito que hicimos lo correcto?" Nelson Mandela hizo la pregunta y este libro nos impulsa a responderla.
About the Author
---
Conceived and edited by Phaidon Editors
Praise For…
---
"I am proud to be included in this wonderful book. So much hard earned wisdom presented here, while capturing, at the same, the vibrant energy that moves us all toward justice."—Susan Griffin, activist and author
"As we all spin in a whirlpool of ideas, statements and unrest, find emotional life rafts in this punchy collection... You Had Better Make Some Noise distills inspiring, rousing statements from great philosophers, activists, revolutionaries, and creatives into a pocket-sized collection of quotes. The bold black white and yellow book brings a burst of intellect to the coffee table, as you flick through or dip in for moments of galvanising thought and inspiration."—CultureWhisper.com
"Words to inspire... Brings together enduring wisdom of citizen activists, artists, writers, politicians, visionaries and intellectuals... Want to display these words somewhere more prominent. The perforated pages mean you can pull out the quotes for daily reinforcement."—Project Calm
"What can only be described as a timely collection, You Had Better Make Some Noise brings together the words of social activists, revolutionaries, artists, writers, philosophers and politicians who have contributed to the fight for progress and freedom."—ItsNiceThat.com
"Bringing together quotations from visionaries who have been catalysts for change throughout the ages, You Had Better Make Some Noise is an inspiring collection of wisdom through the ages. Featuring iconic quotes from Nelson Mandela, Chinua Achebe, James Baldwin and more, these are words to live by, words that couldn't be more timely right now."—HungerTV.com
"This collection is motivational and visually striking - and because the pages are perforated, you can rip your favorites out to display and share."—InStyle
"Some of the most inspirational quotes from history's greatest thinkers and changers."—Buzzfeed
"Turns on the theme of fighting for freedom... The text is presented in a "smart design", using yellow, black and white for fonts and block backgrounds throughout; many of these quotations here have the look of propaganda posters or protest placards... [An] aspiration to serve as a meaningful call to arms."—TLS (Times Literary Supplement)