Luke: The Savior of the World (MacArthur Bible Studies) (Paperback)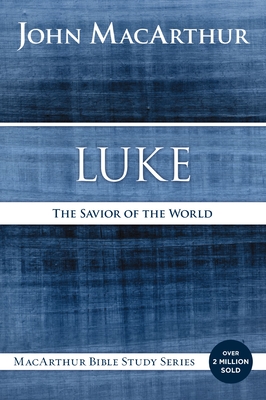 $12.99

Usually arrives at our store within 4-7 days
Description
---
The Gospel of Luke tells the story of Jesus from a perspective unlike any other. Pastor John MacArthur will take you through Luke's account of the gospel, passage by passage, so that you can better understand everything from Luke's specific audience to the detailed portrayal of Jesus' ministry.
As a physician, Luke presents a detailed account of Jesus' conception and birth. As a meticulous historian, he highlights Jesus' parables, teachings, healings, and compassion to the outcasts in Israel. He follows Christ on His journey to the cross, recounts His last days that led to His crucifixion and burial, and documents Christ's victory over the grave.
From the beginning of Jesus' public ministry to the Lord's final words, Luke stresses Jesus' willingness to go to the cross to complete His ultimate mission--to be the Savior of all the world.
--ABOUT THE SERIES--
The MacArthur Bible Study series is designed to help you study the Word of God with guidance from widely respected pastor and author John MacArthur. Each guide provides intriguing examinations of the whole of Scripture by examining its parts and incorporates:
Extensive, but straight-forward commentary on the text.
Detailed observations on overriding themes, timelines, history, and context.
Word and phrase studies to help you unlock the broader meaning and apply it to your life.
Probing, interactive questions with plenty of space to write down your response and thoughts.
About the Author
---
John MacArthur is the pastor-teacher of Grace Community Church in Sun Valley, California, president of the Master's College and Seminary, and featured teacher with the Grace to You media ministry. In more than four decades of ministry, John has written dozens of bestselling books, including The MacArthur Study Bible, The Gospel According to Jesus, and Slave. He lives in Los Angeles.