Che: A Revolutionary Life (Hardcover)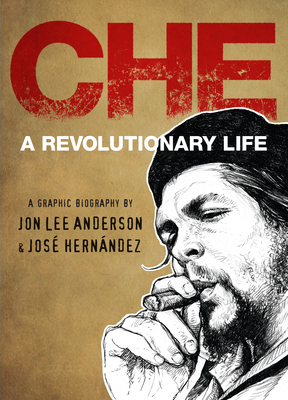 Description
---
"A remarkable accomplishment, one that belongs next to such works of graphical history as the March series and Shigeru Mizuki's Showa books. By foregrounding the tension between myth and truth, Che illuminates the present state of our politics as well as the past." —NPR

The graphic adaptation of the groundbreaking and definitive biography of Che Guevara

Che Guevara's legend is unmatched in the modern world. Since his assassination in 1967 at the age of thirty-nine, the Argentine revolutionary has become an internationally recognized icon, as revered as he is controversial. As a Marxist ideologue who sought to end global inequality by bringing down the American capitalist empire through armed guerrilla warfare, Che has few rivals in the Cold War era as an apostle of revolutionary change. In Che: A Revolutionary Life, Jon Lee Anderson and José Hernández present the man behind the myth, creating a complex and human portrait of this passionate idealist.

Adapted from Jon Lee Anderson's definitive masterwork, Che vividly transports us from young Ernesto's medical school days as a sensitive asthmatic to the battlefields of the Cuban revolution, from his place of power alongside Castro, to his disastrous sojourn in the Congo, and his violent end in Bolivia. Through renowned Mexican artist José Hernández's drawings we feel the bullets wing past the head of the young rebel in Cuba, we smell the thick smoke of his and Castro's cigars, and scrutinize his proud face as he's called "Comandante" for the first time. With astonishing precision, color, and drama, Anderson and Hernández's Che makes us a witness to the revolutionary life and times of Che Guevara.
About the Author
---
Jon Lee Anderson is the author of The Fall of Baghdad, Guerrillas, The Lion's Grave, and Che Guevara: A Revolutionary Life. His reporting led to the discovery of Che's skeletal remains thirty years after their secret burial in Bolivia. He is a New Yorker staff writer, and has reported frequently from Latin America and from war zones around the world. Anderson has written profiles of Augusto Pinochet, Fidel Castro, Hugo Chavez, and Gabriel García Márquez. He is at work on a book about Fidel Castro and modern Cuba.

José Hernández is a political cartoonist for La Jornada, the weekly Proceso, and the magazine El Chamuco y los hijos del Averno. He is a recipient of el Premio Nacional de Periodismo, the National Journalism Award of Mexico.
Praise For…
---
 One of the Comic Journal's Best Comics of 2018

"A remarkable accomplishment, one that belongs next to such works of graphical history as the March series and Shigeru Mizuki's Showa books. By foregrounding the tension between myth and truth, Che illuminates the present state of our politics as well as the past." —NPR

"An amazing feat. . . . [Che] belongs in every library collection and on the shelves of any store with an audience for serious graphic non-fiction."—ICv2

"A visual triumph."—Kirkus
 
"Gorgeously illustrated and engrossing. . . . Guevara's life makes for both a breathtaking adventure story and a sobering history that readers are sure to embrace with enthusiasm."—Library Journal
 
"Spectacularly illustrated. . . . From [Che's] comfortable Argentine birth, medical training, and peripatetic commitment to fighting capitalist U.S. imperialism to his assassination, Anderson and Hernández turn myth into man. . . . Author and artist deftly balance Che's revolutionary idealism with his failures in leadership, his arrogance, his familial inadequacies. Affecting moments are many, including even the origin story of Che's emblematic beret."—Booklist
 
"A cinematic approach chips away at the myths and misunderstandings that still surround the life of Che Guevara, the famed doctor turned revolutionary, in this in-depth graphic novel adaptation of Anderson's exhaustive biography. . . . Adding warmth to the exhaustive research drawn from letters, newspapers and official documents are Che's writings to his mother."—Publishers Weekly

[Hernández's] artwork stuns with cinematic precision and photographic detail. This book puts readers in the thick of the South American and Caribbean jungles, where the Cuban revolution was won. Scenes of bullets whizzing by Che and his guerilla fighters provide tension and immediacy, while close-ups that focus on the speakers and blur background details lend the narrative a documentary feel. . . . A stunning graphic adaptation of Jon Lee Anderson's biography of Che."—Shelf Awareness