Squash: Steps to Success (STS (Steps to Success Activity) (Paperback)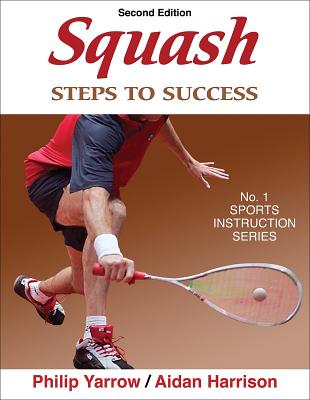 This item is not available.
Description
---
Learn the fundamentals and enjoy competing in this fast-paced tactical game. Whether you already play squash or are just starting out, Squash: Steps to Success will teach you the skills and strategies you need in order to play and win.
With 13 progressive instructional steps, you'll learn all aspects of the game. Detailed descriptions, illustrations, and photo sequences demonstrate essential on-the-court movement, volleys, serves, returns, and drop shots. Then practice and improve techniques with 93 drills, each featuring a personal scoring system to gauge and accelerate your progress.
After you master the individual skills, Squash: Steps to Success will show you how to apply them in match situations. From disguise and deception to attacking and defensive strategies, you'll learn to maximize your strengths and dominate the court.
Become a complete player on the court. As part of the popular Steps to Success Sports Series—with more than 1.5 million copies sold worldwide—Squash: Steps to Success will elevate your performance to new heights in all facets of the sport.

About the Author
---
Philip Yarrow has been competing in and winning squash tournaments for almost 30 years. He was a member of the under-19 junior squad in his native England. While attending Nottingham University, he was both the English Universities and British Universities champion. His school's team won the English Universities Team Championship in all three years of his time there.
Philip moved to the United States in 1991 and won the National Amateur Championships in 1992 and 1993. At that time he was also building one of the best squash programs in the country as head squash professional at Chicago's Lakeshore Athletic Club. Philip is a certified coach with the English Squash Rackets Association, a certified referee in England and the United States, and a certified referee instructor in the United States.

Aidan Harrison has been heavily involved in squash since he first picked up a racket at the age of eight. Originally from Yorkshire, he captained the England under-19 junior team in 1990, which won the World Junior Team Championships, and he finished third that year in the individual event. Aidan turned professional at age 16 and played on the squash tour for five years, reaching the top 50 in the world rankings.
In 1993, he moved to Dallas to coach full time. He was head coach of the U.S. national junior women's team, leading it to a highest-ever fourth-place finish in the World Championships in 2001. At the same time, he was the personal coach to Michelle Quibell, who became the first American junior to win a British Open title. In 2002, he received the U.S. Olympic Squash Coach of the Year award.
Aidan is a certified coach with the English Squash Rackets Association, a certified Spinning instructor and a personal trainer. He is currently the head squash professional at the Onwentsia Club in Lake Forest, Illinois, one of the most prestigious country clubs in the United States.

Praise For…
---
"Squash is a must-read filled with key insights into the game. Whether you are a top-level player or a club player looking for ways to improve your game, you can get better by reading this book."

Amr Shabana
World No. 2 player
"A unique and informative step by step guide that will improve your squash game at any level. Keep this book in your bag at all times."
David Campion
England Squash High Performance National Coach