An Unexpected Hero: A Bible Story about Rahab (Called and Courageous Girls #4) (Hardcover)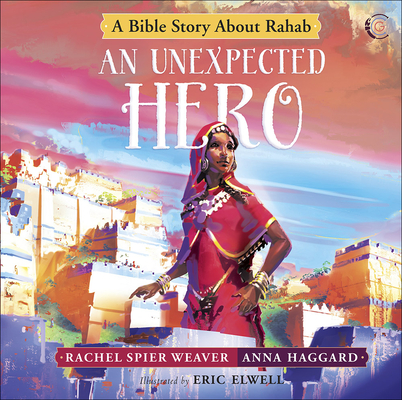 Other Books in Series
This is book number 4 in the Called and Courageous Girls series.
Description
---
Have Faith That God Will Help You Do Great Things
Rahab is an adventurous young girl who enjoys playing with her siblings in the big, bustling city of Jericho. As she grows up, she makes a lot of bad choices, then desperately wants to change her life. Does God have a special plan for Rahab?
When two Israelite spies come to Rahab's door, she bravely offers them a place to hide. Then God gives her a great idea to help them escape and the spies agree to protect Rahab and her family once Israel takes over Jericho. And when that day finally comes, God keeps His promise to Rahab because of her faithfulness and courage, even making her a great-great-great-great-great-grandmother to Jesus.
With God's help, you can be just like Rahab--called and courageous.
***
Called and Courageous Girls - Bible Heroes That Inspire Your Child's Faith in God
Called and courageous girls are disciples, political and spiritual leaders, philanthropists, moms, businesspeople, evangelists, prophets, and so much more. Called and courageous women of the Bible face overwhelming odds, finding strength, faith, and courage to join God's Story.
Through examples of steadfast faith and--ultimately--God's direction, the Called and Courageous Girls series invites your children to answer God's calling to discover and use their talents, passions, and gifts to journey with Him on a lifelong adventure.
God is calling every courageous hero--including your child-- to arise, trust in Him, and join the Greatest Story.
About the Author
---
Rachel Spier Weaver is a recruiter at HOPE International and has worked as a career counselor at the University of Florida and Dickinson College. She is passionate about sharing stories of women of God who led in extraordinary ways. She lives with her husband, Shane, and their two children, Norah and Jack.Anna Haggard is coauthor of The Spiritual Danger of Doing Good and Mission Drift, a 2015 Christianity Today Book Award winner. A writer and editor for the Brethren in Christ U.S., Anna previously was a staff writer for HOPE International. She is delighted to write for children (her favorite people).Eric Elwell is a freelance illustrator who blends traditional and digital art techniques. When he's not hanging out in western New York with his beautiful wife and giving piggyback rides to his three children, he enjoys roasting coffee. Connect with him at www.ericelwellart.com.