There are no products in your shopping cart.
Clutter Intervention: How Your Stuff Is Keeping You Stuck (Paperback)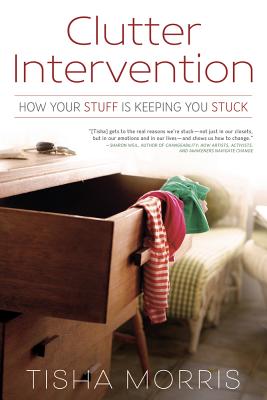 Description
---
"This is the book we need now . . . It] illuminates the deeper "whys" behind each kind of clutter in your home so that you can peacefully release everything you need to and live buoyantly again "--Sarah Bamford Seidelmann, author of Swimming with Elephants: My Unexpected Pilgrimage from Physician to Healer
Get to the Heart of Why It's So Hard to Let Go of Your Stuff
What's your clutter actually covering up? Once you're aware of the real issue, letting go is simple and decluttering can happen immediately. Using step-by-step instructions and easy-to-understand explanations, Tisha Morris shows you how to move into a new phase of life by ridding yourself of all that's holding you back. Everything in your home is an extension of your identity, and when you keep old stuff for too long, you get stuck in the past.
Clutter Intervention teaches you about the psychological, emotional, and energetic components underlying your possessions, making it easier for you to let go and live authentically. Discover ways to clear out items associated with your past relationships, jobs, and unhealed grief. Learn how to handle blind spots, common excuses, and overcompensation. This book isn't about living with less. It's about living in alignment with the life you want.
Praise:
"Clutter Intervention: How Your Stuff is Keeping You Stuck is a unique self-help guide to freeing oneself from both physical and emotional clutter. Being able to process and let go of pain or difficult memories is an invaluable ability. Chapters outline a declutter program for moving on past mementos from past relationships, previous careers, the glory days of youth, and even helpful tips for clearing out digital clutter. Highly recommended "--Midwest Book Review
About the Author
---
Tisha Morris is a feng shui consultant, interior designer, certified life coach, energy healer, and yoga instructor. She is also the author of Feng Shui Your Life (Turner Publishing, 2011). She is based in Los Angeles, California, and can be found online at TishaMorris.com.