The Third Mrs. Durst (Hardcover)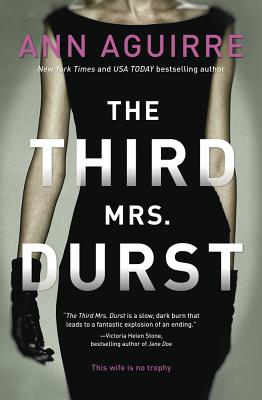 This item is not available.
Description
---
A twisted Cinderella story from New York Times and USA TODAY bestselling author Ann Aguirre
Marlena Altizer Durst lives in her husband's shadow. He controls her every move--what she wears, the food she eats, and the friends she's allowed to make. If she disobeys, there are...consequences. And he has all the power.
To outsiders, it seems that she leads a fairy-tale life. But nobody ever wonders if Cinderella was happy after she married the prince. Marlena has traded freedom and safety for luxurious imprisonment, and most days, that seems like a bad bargain. Death may be the only exit she's allowed. Just like his first wife. And his second. Unless she flips the script.
Praise:
"The Third Mrs. Durst is a slow, dark burn that leads to a fantastic explosion of an ending."--Victoria Helen Stone, bestselling author of Jane Doe
About the Author
---
Ann Aguirre (Mexico) is a New York Times and USA Today bestselling author and RITA winner with a degree in English Literature. She writes all kinds of genre fiction for adults and teens, and has published forty-two novels and novellas with Penguin, Macmillan, Harlequin, and others.