Born on a Rotten Day: Born on a Rotten Day (Paperback)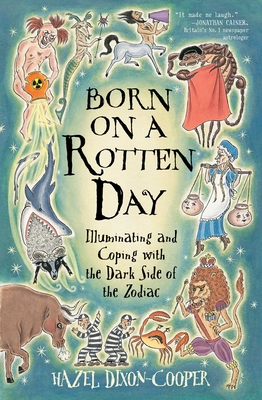 $16.99

Usually arrives at our store within 4-7 days
Description
---
In this wickedly funny guide, professional astrologer Hazel Dixon-Cooper casts off sugar-coated astrology in favor of exploring the maladjusted side of the universe.

If you want the inside scoop, the real deal, the lowdown on each sun sign, then look no further.

It's time to forget those traditional astrology books where Sagittarians are gregarious, Capricorns are ambitious, and Pisceans are dreamers. Instead, enter a world where Archers are loud-mouthed bores, Goats are pompous social climbers, and Fish are chronically helpless. Dixon-Cooper debunks the myths, reveals the flaws, and examines the dubious virtues of each sun sign. Discover how to use your own inner brat to outwit bullies, outmaneuver manipulators, and win those endless games that lovers play. Learn how to deal with those dysfunctional people you encounter every day, including how to:

-contain a Ram's oversized ego
-calm a raging Bull
-keep a fickle Twin faithful

Irreverent, biting, and laugh-out-loud funny, Born on a Rotten Day exaggerates the bad, exorcises the good, and puts a new spin on the age-old question -- what's your sign?
About the Author
---
Hazel Dixon-Cooper has been a professional astrologer for more than twenty-five years. She is the author of the Rotten Day humorous astrology book series. She has written astrology articles and columns for a variety of newspapers and magazines, including Cosmopolitan magazine's Bedside Astrologer column. She is a popular guest on a wide variety of international, national, and regional radio programs.
Praise For…
---
Jonathan Cainer Britain's No. 1 newspaper astrologer It made me laugh.

Suzanne White novelist and creator of The New Astrology Dixon-Cooper reveals what every astrologer knows but none has ever dared say. Born on a Rotten Day takes us on a seriously humorous ride through the land of truth and consequences. I highly recommend it to anyone who has chosen to go on living and prefers to do so intelligently.

Matthew Abergel author of Gay Stars and Work Your Stars Most astrologers accentuate the positive too much. Not Dixon-Cooper. Funnier and franker than your best friend after three drinks, she reveals the black holes among the stars.