Great Cities: The stories behind the world's most fascinating places (DK History Changers) (Hardcover)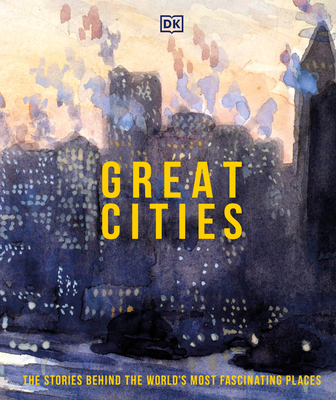 $40.00

Usually arrives at our store within 4-7 days
Description
---
Explore the social and cultural history of 100 of the world's most important cities. 

This illustrated history book provides a fascinating insight into the events, movements, and people throughout history who have shaped the cities where we live. Written in a "biography" format, it offers a rich historical overview of each featured city, brought to vivid life with beautiful imagery. 

Inside the pages of this visual guide, discover: 

   • The story behind each city — how it was established, critical moments in its development and why it is considered historically significant. 
   • The different types of cities, from the centers of ancient and lost civilizations and great river cities to planned cities and modern metropolises.
   • Beautiful illustrations with large-scale reproductions of paintings, photographs, maps and other artifacts.
   • Stunning images of city life and key moments in history are complemented by close-ups of revealing details and feature panels that provide additional context. 

From the ancient to the modern, get under the skin of what made cities like Persepolis, Paris, Vienna, Prague, Amsterdam, Tokyo and Dubai tick.  This lavish book is about more than history — it explores the art, architecture, commerce and politics of the great civilizations throughout history. 

Great Cities provides a unique window into how cities have become markers of human progress. Explore which ancient civilization founded the precursor to Mexico City, why Venice was the gateway to the East, what the Belle Epoque was and which city was the first to build sewers. It's the perfect gift for armchair explorers interested in history, geography and the arts.
About the Author
---
We believe in the power of discovery. That's why we create books for everyone that explore ideas and nurture curiosity about the world we live in.
 
From first words to the Big Bang, from the wonders of nature to city adventures, you will find expert knowledge, hours of fun and endless inspiration in the pages of our books. 

https://www.dk.com/