How to Raise a Global Citizen: For the Parents of the Children Who Will Save the World (Paperback)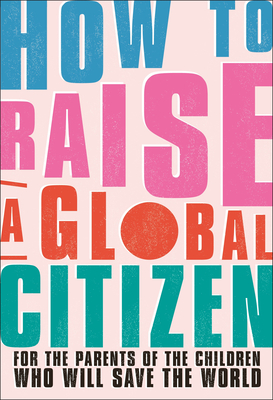 Description
---
A cheerful, optimistic handbook for parents and carers shaping the next generation of responsible global citizens – ready to change the world for the better!

Our children have the energy, capacity, and passion to create and nurture a global culture in which inclusion, acceptance, respect, and participation are the core values that underpin a human being's every interaction. As parents and caregivers, our job is to help our children take their first steps along that path.

Raising truly globally minded, and socially conscious children happens at home and in the community. Children can be inspired, equipped, and mobilized to make a difference in the world. By encouraging values such as responsible and kind use of social media, respect, open mindedness, empathy, a sense of community, parents can help to shape a new generation of emotionally intelligent, outward-looking, politically ethical world citizens.

Relevant to parents of children of all ages—from toddlers to teens—the book gives practical advice on how to talk to your children, the vocabulary to use, and activities and projects you can undertake with your children, from planting a tree to keeping a gratitude diary to cooking themed cuisines. And you'll find out how to model global citizenship through your own day-to-day actions.
About the Author
---
Anna Davidson is the author of A Young Citizen's Guide to Money and, as a writer and editor, specialises in books for parents and families. A mother of three, Anna read modern languages at Oxford University and spent a year teaching secondary-school English in Marseilles where she first developed a taste for global citizenship. Since then, she has worked for leading publishing houses in both London and Paris. Anna now lives and works from home in Kent. @AnnaMcDavidson

Marvyn Harrison is a father of two and founder of Dope Black CIC as well as co-founder of the Diversity, Equity, and Inclusion (DEI) consultancy BELOVD. He coined the term Dope Black Dads on Father's Day 2018. Challenged by his feelings towards parenthood, Marvyn created a WhatsApp group with fathers he knew, hoping to share and learn from the experiences of those going on a similar journey to him. Now the Dope Black Dads network engages over 12,000 dads across the UK, US, and Africa. Marvyn regularly leads podcasts for parents and contributes to panels, webinars, Q&As, and documentaries on the subjects of male parenting, masculinity, mental health, the Black experience, and business. dopeblack.org @DopeBlackDads

Dr Annabelle Humanes wants to live in a world where diversity is celebrated and valued. A linguist, she worked in academia for over a decade before starting a family, teaching languages and carrying out research in language acquisition in young children. Evidence-based decision-making and multilingualism are her passions, and her own family lives with four languages (and cultures) on a daily basis. When she is not travelling or eating her way around the world with her little European citizens, she runs language enrichment classes and playgroups for French-speaking families. She blogs about being the mother of two cross-cultural children and blending cultures and languages. thepiripirilexicon.com Insta: @ThePiriPiriLexicon

Dr Melernie Meheux is a senior Educational Psychologist passionate about using psychology to support children and their families. As a certified Play Therapist, she believes in the power of play to give children a voice to make sense of their experiences, and strongly advocates the rights of all children to play. Melernie is co-chair of the British Psychological Society's Division of Educational and Child Psychology (DECP), and chair of the board of trustees for Solidarity Sports, a charity that supports disadvantaged children and those who have experienced trauma to access play opportunities. She loves writing, hates inequality, and wants to contribute towards saving the planet in any way that she can! bps.org.uk/blogs @DrMelsie

James Murray is an environmental journalist and founding editor of the award-winning website BusinessGreen. He has spent the past 15 years reporting on the climate crisis, the green economy, and clean technologies, and is a regular commentator on a wide range of environmental issues on
TV and radio. In 2020 he also helped launch the world's first Net Zero Festival, bringing together business leaders, policymakers, and campaigners to explore how to accelerate the green industrial revolution. An English graduate from the University of Exeter, James lives in South London with his wife and two sons. businessgreen.com @James_BG

Jen Panaro is a self-proclaimed composting nerd and an advocate for eco-friendly living for modern families. As a mum to two boys, she is passionate about helping families find ways to be more responsible stewards to our communities and the planet. She regularly writes for her blog, Honestly Modern, and other publications about exploring climate action, zero waste living, regenerative gardening, and intersectional environmentalism, all through the lens of modern family life. Jen is also the founder of WasteWell, a company she runs that provides composting services and related educational resources. In her spare time, she's a messy gardener and a serial library book borrower. honestlymodern.com Insta: @HonestlyModern

Jess Purcell is a science educator who is dedicated to making the science of sustainability accessible to all learners. She creates sustainability science experiments and nature activities
for students of all ages, which can be done in the classroom or at home, and are designed to foster critical-thinking skills and a love of the natural world. Jess lives in central Pennsylvania with her husband, two kids, and two cats, and can usually be found outside, working out the kinks of an experiment, upcycling trash into "treasure", hiking with her family, or attempting to read a book while being cajoled into a game of hide and seek. thoughtfullysustainable.com Insta: @ThoughtfullySustainable

Fariba Soetan is a blogger and mother of three multiracial daughters living in London. Her passion for raising citizens of the world grew from her own experience being raised in a mixed heritage family (Iranian/British) and immigrating from Tehran, Iran to Edmonton, Canada at a very young age. After meeting her Nigerian husband in Wales, Fariba moved to Nigeria for a few years with her two young children, before settling down in London. Her blog for parents of mixed race children, Mixed.up.Mama, aims to help bridge parents' understanding about raising multiracial families, and encourage them to be intentional about talking about race and identity to children. mixedracefamily.com Insta: @Mixed.Up.Mama