Every One Is Special: Cats (Board book)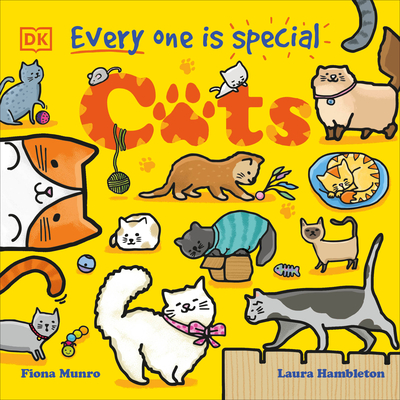 Description
---
A series of fun and interactive books for toddlers and young children about how great it is to be different.

Every person (and every cat, dog, fairy, and dinosaur) is special and different in their own way – whatever their shape, size, age, or hairstyle! This series of colorful little books brings a fresh, topical approach about how our differences make us special – whether we are talking about dogs, dads, birthdays, bodies, families, or anything else. 

Every One is Special: Cats explains that every cat has different traits which makes them unique and special, in a humorous and gentle way. Among the fun, there is a serious point to be made. At the moment, the differences between us can seem wider than ever. This series of bright little books for babies and toddlers aged 0-3 provides a way to encourage young children to accept and embrace the idea of difference.

This board book, celebrating everyone's differences, offers: 

- A fun, playful narrative which shows us how great it is to be different, and how differences make us special.
- Adorable illustrated pages accompanied by simple, age-appropriate and warm text.
- Clear and simple read-aloud text to engage young ones as they follow the story.
- A safe and sturdy board book format making it easy for little hands to hold.

This board book series provides a celebration of differences for little readers and will make great little handbooks for every child. There is one for every occasion and every important person in their life, each one providing a handy little slice of life-affirming positivity and fun!

More in the series

Every One is Special is the perfect first baby board book for early learners and is a wonderful celebration of our differences. With bright illustrations and engaging, easy-to-read text, this awe-inspiring series is sure to delight. If your little one loves Every One is Special: Cats then why not try Every One is Special: Dogs and celebrate all the different types of dogs there are!
About the Author
---
Fiona Munro has been working in the world of children's books for more than 20 years. She has written for all ages and has penned many different types of children's books, from rhymes to stories, and from nonfiction to sticker books. Fiona is a successful author of preschool books and an experienced children's editor who has worked at Hachette and Ladybird. Her main aim is to keep children turning the pages and engrossed in what they see.

Laura Hambleton is a former art director for Wren & Rook and a successful illustrator of children's picture books. Her books have sold all over the world.